"FAITH"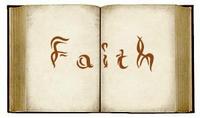 Submitted by Angel Kennedy
What is faith? Is it an overused word?  Just Christian lingo?
What does faith really mean? Are we understanding faith for what it is?
Everyday our faith should be deepening as we walk with God! 
Hebrews 11:6
Our faith journey begins when we accept Jesus as Savior! 
Eph. 2:8  Heb. 11:1
Found–  Faith must be discovered, studied and tried.  Matt. 9:22
Applied–  On a daily basis we should be asking for help in our unbelief.  Allowing
God to be God and leave the how completely up to Him.  Matt. 21:21-22
I
ndescribable
–  Unexplainable!  Faith is believing beyond what our eyes can see
.  Acts 14:8-10;
Seeing the bigger picture 
Job 19:26,   Heb. 11:3
T
rusted
–  Job knew that his faith worked even in the middle of the most darkening and fearful time! "I KNOW MY REDEEMER LIVETH!"  It works! 
Job 19:25, Job 42:2
H
onored
–  Hebrews chapter 11 is the faith hall of fame. These people found, applied, believed, trusted on God's word!!!!!!!!!!!  We keep believing and trusting God will bless us! 
Heb. 11:4-11, 13, 23-40
Our faith doesn't stop until we have sight and lay our eyes upon Jesus! When He says, "Well done thy good and FAITHFUL servant."  Matt. 25: 21
Faith is a life: Committed beyond its means; Expecting what sense cannot certify; Based on God's promise; Depending on God's supply; Motivated for God's glory; And confident in God's integrity!
Update:  Check out "Faith Acrostic" Here
Featured Product:
Faith – Colorful Devotions Sculpture

]]>

Please help share my content:

<![CDATA[