I love lemons!  It's one of my favorite scents… I wander around in one of our local health food stores just to seek out the free sample of lemon hand lotion… I love to get a good whiff of the lemon scent and take some of the good smell with me… on my hands, of course! 🙂
So today's topic is LEMONS!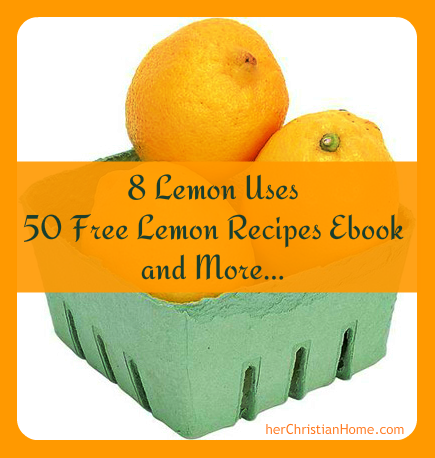 Eight Lemon Uses:
1. Lemon & Water at the Beginning of your Day

Squeeze a half a lemon into a glass of water first thing in the morning. This is an excellent way to begin your day. It balances your body pH and helps to clean your liver. It's a great tasting way to give a kick-start to your digestion.
2. Get Rid of a Cold
If you feel yourself coming down with a cold or other common virus, grab a lemon and mix it with equal parts apple cider vinegar and local honey. Mix in some cinnamon, stir the mixture into hot water and drink. Do this several times a day and your cold will soon take a hike.
3. Tasty Easy-Peasy Food Topping
In a rush and not sure what topping to put on your chicken, fish, or vegetables? Try a squeeze of lemon before cooking. It is great with just the lemon, or along with a small shake of salt or a few drops of olive oil. Lemon as a topping is simple, delicious, and healthy.
4. Keep Fruit Salad from Oxidization
If you have cut up a beautiful bowl of fruit salad and you want it to continue looking fresh, squeeze a lemon over it and stir until all the fruit is coated. Lemon prevents oxidation from happening. Instead of turning brown, the fruit will retain its nice, bright colors.
5. Sanitize and Clean Your Cutting Board
Think lemons are only for consuming? Think again. If your cutting board doesn't smell fresh, or if it is retaining flavor from past foods, cut a lemon in half and rub it down vigorously. This will remove odors and help to sanitize it.
6. Clear Pimples
Who knew lemons could even help you when applied topically? If you have pimples, simply apply fresh lemon juice to them to draw them out. Your good complexion will return in no time.
7. Mirror & Glass Cleaner
If you're looking for a more natural solution to clean your mirrors with, try lemon juice. Put it into a spray bottle and add water. Spray the mirrors and wipe them down for a sparkle with no chemicals involved.
8. Microwave Cleaner
If your microwave is looking like it has years of food built up in it, lemons are your best friend. Cut a lemon in half and place both halves into a bowl of water. Microwave this bowl for 30 seconds and then wipe the inside of the microwave. You will be amazed at how easily you can wipe off all the grime that has previously insisted on sticking around.
_____________________________________________________
Featured Recipe Pick:  Sugar Free Lemon Curd
Since I'm trying to eliminate sugar from my daily diet, I've chosen a sugar free recipe to feature…
And More Lemon Stuff…

🙂

_____________________________________________________
Hurry to grab this offer…Currently FREE ebook…
Instant, Effective and Homemade solutions for health, home and tasty food Solving hundreds of problems related to Home cleaning, Stain, Rust, Skin and Hair care Along with mouth watering Vegetarian recipes Lemon is the best and sometimes the …
_____________________________________________________
http://www.theguardian.com/uk Tue, 02 Sep 2014 07:00:03 -0700
Lemons left drying in the fruit bowl or lolling in the fridge? Our Dinner Doctor squeezes out some zesty recipe tips.
_____________________________________________________
http://www.superhealthykids.com/healthy-kids-recipes.php Tue, 05 Mar 2013 06:08:56 -0800
Last week I went to a baby shower. They served brunch which is definitely my favorite meal – a combination of breakfast and lunch? Yum. They had a fruit tray with the yummiest fruit dip. The host had made A LOT of fruit dip and so sent some …
_____________________________________________________
MEYER LEMON FINISHING SALT
http://www.simplebites.net/ Sun, 17 Mar 2013 23:45:31 -0700
Five ideas for preserving Meyer lemons and a simple recipe for Meyer Lemon Finishing Salt.
_____________________________________________________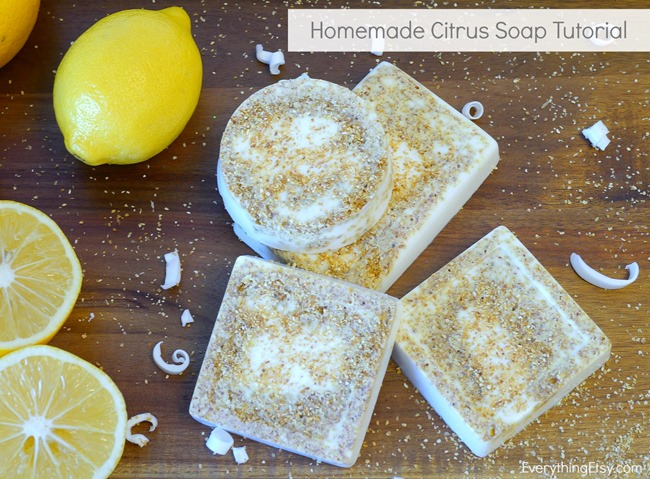 http://www.everythingetsy.com/ Thu, 04 Sep 2014 08:10:57 -0700
This Homemade Citrus Soap can be made in minutes and it turns out amazing! I wish you could smell it! The whole office is smelling like some kind of fabulous spa on the edge of the ocean…on a tropical island, of course.
Looking for great LEMONY Stocking  Stuffers?  🙂
Please help share my content: