Note: This story is a re-post from Jan. 5, 2014, and for those who missed it the first time around, I thought this story would be a blessing to you…
By Author, K Reynolds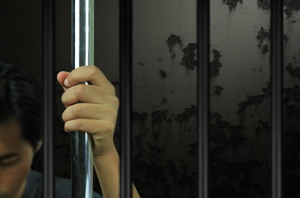 I was only about four or five years old but I remember it like it happened yesterday. It was around 1965 and we were living in a house in Minneapolis that had been builtat the turn of the century. Like most houses from that time period, closets in bedrooms were either very small or non-existent. At some point in time, long before we lived there, a small closet had been added to the room which later became my bedroom.
To a little girl, this closet looked like a playhouse with a real door that opened and shut. It must have looked like that to my friend Denise as well because when I suggested that we go into our house and shut the door, she was game.
It took some doing to get ourselves in there. I don't know the exact dimensions but using the tiny closet in my office as a guide, it could not have been more than four feet wide and two feet across. We were only two small girls but when you consider that the closet contained clothing as well as a box on the floor for dirty laundry, you can easily see why it took some careful manuevering to get inside that closet.
Perhaps the difficulty in performing this feat would have caused some children to give up. Not me. Once I get an idea in my head, I am like a pitbull. I do not want to let it go and if one solution won't work, I will try something else. While that can be a very good characteristic to have, it can also be a deadly one as I would soon find out.
We finally managed to shove aside the clothes enough that we could squeeze into our "playhouse". Standing on top of the laundry, I attempted to shut the door but quickly discovered there was a problem. There was no knob or handle on the inside of the door. Hmm…
Now perhaps a wiser child would have stopped then and there, climbed out of the closet and sought adventure elsewhere. Not me. Like I said, I can grab onto an idea like a bitbull and I was determined to shut that door!
Children are a lot cleverer than what we often give them credit for. We are wired to create tools to serve our purpose and that is exactly what I did. As I stared at the hangers in the closet, I got what I considered to be a brilliant idea. I could use a hanger as a hook. I could turn it sideways, slip it under the door, twist it and pull the door towards me. That was my theory anyway. Unfortunately, in this case my theory worked.
As the door snapped shut, my friend and I squealed with delight. Everything was going according to our plan. Now it was time to open the door and go outside our "little house". I reached for the doorknob and felt nothing but wood. We were trapped!
Denise and I began to frantically cry out for help but my mother, who was downstairs in the kitchen could not hear our muffled cries and pounding which were muted even more by the clothing that surrounded us. We tried to throw ourselves against the door again and again but it would not give.
Almost 50 years later, tears are streaming down my face as I recall the horror of that day. I remember the hot, stuffy air I tried to inhale but couldn't. I remember the sweat pouring down my face. I remember feeling the weight of Denise, who was behind me. I called out to her but there was no response. Most of all though, I remember hearing a strange sound like roaring water in my ears. I know now what was happening. I was about to pass out from lack of oxygen and if that door remained closed, death would follow.
It is interesting how when we are in crisis our mind either becomes numb or our thoughts seem to become accelerated while everything around us seems like it as a standstill. In that moment, I was reminded that I had always heard that God hears our prayers and even if no one else was around to help me… God was.
With what might have been my last bit of breath, I choked out the words, "Jesus, help us!" At that moment, I can only tell you that for lack of better words, I was commanded to try again. I did not get the idea to try again. I was "told" to try again and I think some of you who may read this blog will understand exactly what I am saying. I reached for Denise's hand and pulling her with me I pressed up against the door once again. This time it gave way and two oxygen-starved little girls tumbled out onto the floor, gulping large mouthfuls of cool, refreshing and life-giving air.
About 44 years later, I would find myself locked in another closet only this time, the closet was my own body. Unable to cry out, unable to communicate with anyone, I was trapped. My attempt to mouth words or even form them in my mind failed but God heard the cry of my heart and at that moment He stepped into "the closet" with me, just like He did so long ago; just like He has done so many times over the years. This time it would be nearly a week before the "closet door" opened but that didn't matter because you see… God was in the closet with me and God kept me safe.
You might not be in a literal closet. Your closet might be a closet of sin, despair, anxiety, depression, sorrow or even sickness. Emotionally and spiritually you feel trapped and are gasping for each "breath" you take. You have come to the realization that no one in this world can rescue you, except God.
Here are some words for you:
In my distress I called upon the LORD, and cried unto my God: he heard my voice out of his temple, and my cry came before him, even into his ears.

Psalm 18:6 (KJV)
He sent from above, he took me, he drew me out of many waters. He delivered me from my strong enemy, and from them which hated me: for they were too strong for me. They prevented me in the day of my calamity: but the LORD was my stay. He brought me forth also into a large place; he delivered me, because he delighted in me.

Psalm 18: 16-19 (KJV)
Blessings!
Photo Credit: Naypong/Freedigitalphotos.net