"Give, and it shall be given unto you; good measure, pressed down, and shaken together, and running over, shall men give into your bosom. For with the same measure that ye mete withal it shall be measured to you again."

~ Luke 6:38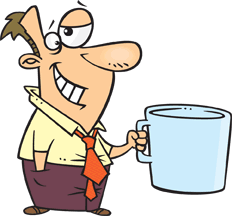 Remember the tip when measuring brown sugar?
  You're supposed to pack it down to measure it. When measuring ingredients it's always important to measure it the right way and also to make sure you have the correct amount, otherwise, whatever you're making might not turn out right. Well, last night I decided to make my hubby his favorite cookies which are "
no-bake cookies
."  My youngest son volunteered to help me (
bless his heart, he always has such a volunteering spirit to help others)
. I had him start measuring out the peanut butter while I worked on getting the other ingredients ready that needed to be heated at the stove.  A few moments later, he showed me his completed job and asked, "
Is this good, Mom?
"  I glanced over to see the results and decided I was going to have to tell him the truth.  "
No, Son, you have to pack in the peanut butter, it's not quite full and you have lots of gaps.  You've got to press it down in there.  The recipe won't turn out quite right if we don't have the proper amount
." Point is…proper portions make a huge difference.  Second point is…pressing down the sugar gets you more brown sugar. hee hee. 😉
Do you ever feel cheated?
Truthfully, when it comes to something we like getting, we all prefer the "pressed-down" portions. The other day my hubby and I were on a "mini date" at Braums and he ordered his favorite, a "
Brownie Fudge Sundae
.
"
  The worker half-heartedly scooped some ice cream into the serving bowl.  I'd have to say it was the tiniest scooped ball of ice cream that I've ever seen served from Braums. My hubby confronted the lady, but she suggested that perhaps the ice cream had just melted quickly.  It was a disappointment since my hubby was expecting more. On another occasion
(and a different location)
, we had a Braum's employee stuff in that ice cream, she kept pushing in a little more….she stuffed it plum full with extra fudge sauce overflowing.  Note:  I want to hire her and have her relocated here at our local Braums!  🙂   We were thrilled with the generous portion!
God's not stingy. 
God isn't going to cheat us like a big bag of potato chips filled with mostly air.  God isn't going let us down and leave us disappointed when it comes time to fulling our prayer requests!  He doesn't do a half-hearted job!
Here's a few thoughts of mine from the Bible
Elisha wanted a double portion…and there's nothing wrong with asking for it when it concerns the things of God.
"And it came to pass, when they were gone over, that Elijah said unto Elisha, Ask what I shall do for thee, before I be taken away from thee. And Elisha said, I pray thee, let a double portion of thy spirit be upon me."  II Kings 2:9
God gave Job double for his trouble…and God won't shortchange you either!
"And the LORD turned the captivity of Job, when he prayed for his friends: also the LORD gave Job twice as much as he had before."  Job 42:10
Consider the story of the widow woman (
with just a pot of oil left
) who was in big trouble with a creditor.  It was a bad situation…so much so that the creditor was going to take her two sons to be bondmen.  Elisha's instruction…
"…Go, borrow thee vessels abroad of all thy neighbours, even empty vessels;

borrow not a few

.

And when thou art come in, thou shalt shut the door upon thee and upon thy sons, and shalt pour out into all those vessels, and thou shalt set aside that which is full.

So she went from him, and shut the door upon her and upon her sons, who brought the vessels to her; and she poured out.

And it came to pass, when the vessels were full, that she said unto her son, Bring me yet a vessel. And he said unto her, There is not a vessel more. And the oil stayed

."

II Kings 4:3-6
What if…
Every time I read or hear this story above, I often wonder,
"What if she'd had more vessels? What if she'd had twice as many vessels?"
  It was when she said, "
Bring me yet a vessel
" and there were no more that the oil stopped.  As long as there were vessels, the oil kept filling those vessels!
The bigger our faith, the bigger our portions received!
Day 23 
Some of us are carrying around little cups to be filled
.  Pray bigger prayers.  Increase your faith by reading more of the Word.  How big is God in your eyes?  The bigger He is in your eyes, the bigger your faith will be.  Go grab a bigger cup today and ask God to fill it!
God bless your day ahead,
Rhonda White
]]>

<![CDATA[