<![CDATA[Hello ladies, I hope you've had a marvelous day.  I apologize for being late today on writing.  My boys all have tests on Monday and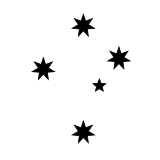 we've had to do some extra studying this weekend in order to prepare.   I only have time to share a quick thought because I have to get ready to serve up some sandwiches before we leave for church. While studying science with my 12-year-old son,  I couldn't help but think how complex the universe really seems to be.  What a wonderful job of complete perfection God has created!   Everything seems to be made for a specific purpose.   What's even more astonishing, God has numbered and named each star. Psalms 147:4  
He telleth the number of the stars; He calleth them all by their names.
If God cares so much about every small detail (even naming the stars), we know that He must love us immensely.  He's also created us with a purpose.  He know how many hairs you have on your head…He loves you that much!
Luke 12:7    
But even the very hairs of your head are all numbered. Fear not therefore: ye are of more value than many sparrows.
As we face the week ahead, let's walk with thankfulness in our hearts, praising God for all that He's done for
us. 
He constantly thinks about us…but can we say that we constantly think about Him?
]]>
Please help share my content: