Fun Hobbies and Collections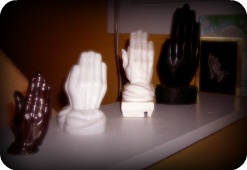 From the time I was a little girl I've had a genuine interest in collecting "stuff".
Could it be hereditary?
My dad was a genuine collector of paper and envelopes.  The best part was that his hobby was absolutely free.  Incoming junk mail provided for his growing collection without a single cent forked out on his part. I really love my dad!  He's progressed over the years to collecting computer parts.  He's a pro when it comes to messing with computers and putting old parts together to create new usable computers.  I'm enthused over his talent, but I think my mother is slightly weary of his ever-growing collection of parts in the garage. (I don't blame her though; my hubby has quite a few growing collections that I wouldn't mind disappearing. lol) During my third grade year, I took up collecting stamps.  My wonderful mother supported my interest by allowing me to confiscate every stamp from incoming mail.  I learned to soak them and safely remove them from the envelopes. For years, I continued watch for new releases of stamps from the post office and watched intently over my growing collection.  I also collected a few other odds and ends such as some coins and pretty rocks. When I was first married, I gained an interest in collecting Coca-Cola items for my kitchen.  Soon,  my kitchen was swamped with lots of this terrific "stuff".  My passion has slowly turned to things that take up less space and require less commitment, such as my wooden spoons. (
view picture here)
And as you can see above, I have a very small collection of praying hands. I think most human beings find a fascination in collecting "stuff".  Collecting a variety of like items tends to offer such simple enjoyment… Of course, it's collecting something that you have a passion about that makes you a true genuine collector.  I mean, who could find a thrill about collecting worms if you hated them?  I think really it's the "hunt" for the next item to add to one's collection that adds to thrill of it all. I believe collections are valuable (
not necessarily in the sense of money value
)…they inspire conversation and allow you to connect with others who have the same interest.  They allow you to relax for a moment and just enjoy the simple things in life.
I'm just wondering what sort of collections or fun hobbies that my readers have?  Please share with us here.  I would love to hear from you!
]]>

<![CDATA[