Healthy Banana Nut Muffins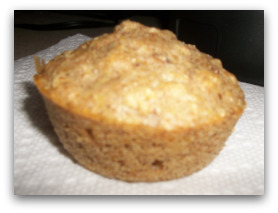 2 eggs beaten 3 very ripe bananas 1/4 cup olive oil 1/2 cup water 1/2 cup sugar ———————— 1 cup white flour 1 cup whole wheat flour 1 tsp. salt 1 tsp. baking soda 1 tsp. cinnamon ———————— 1 or 2 TB ground flaxseed 1 cup of chopped walnuts
*Optional:
1/2 cup of chocolate chips ————————
Directions:
In a mixing bowl, beat 2 eggs, add in small pieces of ripe bananas and beat together. Next, stir in oil and water and then beat in your sugar.  On top of mixture, toss in flour, salt, baking soda and cinnamon; gently stir together and begin combining it with the liquid mixture beneath. Finally, toss in the ground flaxseed and walnuts and stir. Pour into a greased muffin pan.  Makes one dozen.  Bake at 350 degrees for 20-25 min.
*I've worked this year to create this recipe for banana nut muffins that are little healthier, but still moist and enjoyable for those with a little sweet tooth. I cut back on the amount of sugar, but to make it extra special sometimes I toss in some leftover chocolate chips.  I usually use brown rice flour instead of the whole wheat flour when I have it on hand.
]]>

<![CDATA[