<![CDATA[
How to Make Homemade Banana Pudding (Video)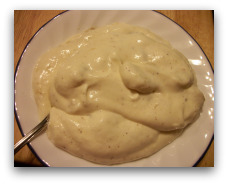 At a local store here in my small town, I pick up bananas at a big discount on Tuesdays.  On Wednesday nights after church we like to have some sort of snack or treat.  So, many times I whip up a quick batch of banana pudding and stick it in the fridge to have ready when we come home. I found a video online that shows how to make homemade banana pudding and their recipe looks pretty easy. (
The actual version I use without eggs is down below underneath the video.
)  I usually forgo the cookies to cut back on sugar…and no complaints from the boys…they still look forward to it!
One additional note:
I usually add a little nutmeg for extra flavor.  Nutmeg has some health benefits (
click here
), including effectiveness in killing a number of cavity-causing bacteria in the mouth.
Ingredients:
* Water * 2 c. skim milk * ⅓ c. sugar * 3 tbsp. cornstarch * 3 large egg yolks * Pinch of salt * 4 medium-ripe bananas * 12 shortbread or vanilla-flavored cookies, crumbled * Whipped cream
*For an easy homemade pudding without eggs,
I use this "
vanilla pudding recipe
" (adding a little nutmeg), let it cool for 30 minutes in the fridge, then I mix in about half a tub of 8 oz. whip cream, add in my sliced bananas, and the put in the fridge for a couple of hours. With this method, I have an easy "one scoop & serve" dessert.   You can sprinkle graham cracker crumbs on top to spiff it up if you wish. 
For best results
, mix in the dry ingredients with the milk before heating and constantly stir over heat until thickening begins to prevent lumps.  Turn off heat immediately to prevent scorching.]]>
Please help share my content: