I want another birthday just like this one!
There were no tears yesterday as I celebrated that I was another year older…
God is so good to me!  I had a such a great birthday yesterday!  And no, it wasn't the gifts that made my day.  I had a fabulous day because my family made me feel so special.  It was the little things they said and the little things they did for me.  It was the time that we shared…and of course, the delicious cake that we ate together. I want to share with you a glimpse of my beautiful birthday cake.  I actually ordered a cake for myself this year for the first time.  (No regrets! lol) A friend of mine has her own cake business…and I must say, she does such a fabulous job!  It was a simple white cake with white frosting…and OOOOOOH, so moist!!!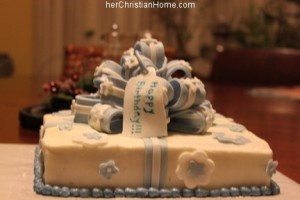 ]]>

<![CDATA[