About my special blessing this Christmas season…
I received these wonderful T-shirts  [Real Men Trust & Obey God No Matter What].   I love the quote on these shirts! That's exactly what I want to teach my sons.
AND… I received the cutest pillowcase with the many NAMES of our Lord Jesus!
I received these T-shirts and pillowcase from a sweet Christian lady, JoAnn Wilder.   I would like to publicly thank her for her generosity and kindness.   Thank YOU, JoAnn, for blessing our family this Christmas. 🙂

JoAnn sells T-Shirts and Pillows, and also teaches (you can visit her website here:  Proud2bPolite.com)

Here's my CUTE pillow! 🙂
It has the many names of our Lord Jesus!  I LOVE this pillowcase!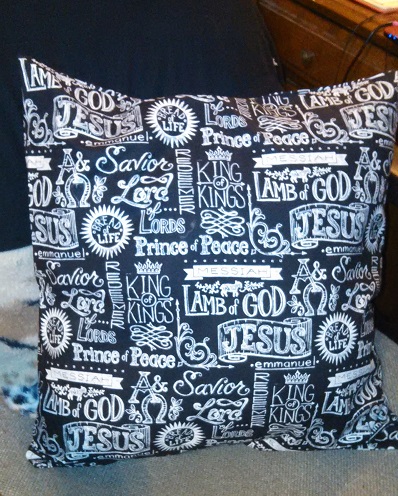 Have a blessed weekend!

I'm so blessed with these four special men in my life.  This is my FAMILY… my three sons and my hubby.  As you can see, my three sons have outgrown us. 😉  My oldest son is now in Bible college.  I'm so proud of him!