My Mother's Day Resolutions for this Year:
I want to strive to be a godly example for my sons…and I hope to teach them this coming year to be "givers"…of their time and energy helping others…and from their money, faithfully giving their tithes and offerings…and to support the missionaries by giving to missions.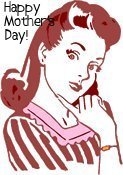 About my day:
My 3 boys have made me feel very special today with all the hugs and "
Mom, I love you
" expressions.  I received a couple of flowers, a card, a nice & cold frappuccino and didn't have to cook breakfast (my hubby bought the boys donuts for this morning.)  I also received a little gift package from my secret sister and she did a terrific job of choosing all the favorite things that I like. For lunch I requested my traditional Mother's Day meal:  A Braum's hamburger and a butter pecan malt.   I told my boys the story behind the "butter pecan malts"… After I gave birth to each of my babies, my hubby would bring me a butter pecan malt to the hospital.  It was my first requested "meal" if you can
call
that a meal? (Whatever the answer is to that, I'm still smiling content here.) I want to personally wish every mom reader here a "
Happy Mother's Day
."   I hope this day you feel as special as you are!
]]>

<![CDATA[