My Super Mom Picture
My 12-year-old son drew this picture of me this week.  At the top of the page it says, "
Super Mom
"
.
.. and as you can see at the bottom… apparently Super Mom
cooks super fast
! 
:-)
Just a note to self:
Slow down!  No wonder I'm always making a mess in the kitchen! For you moms out there, I want to encourage you not to feel like you have to be
super mom
all the time.  Remember to delegate jobs.   I started teaching my boys how to fold their own laundry when they were only 4 years old. (And remember, things don't always have to be perfect!)
Does delegating  housework make me less of a mom?
No, it definitely allows me to be an "unstressed" mom…and believe me, that's a relief to everybody in our house! lol
How about you all?
How do you get your kids involved at home?  Please share any tips or ideas!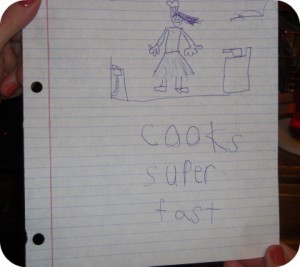 ]]>

<![CDATA[