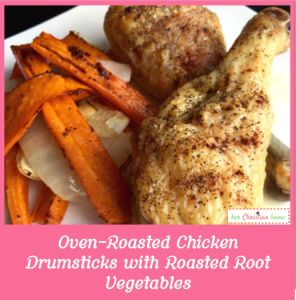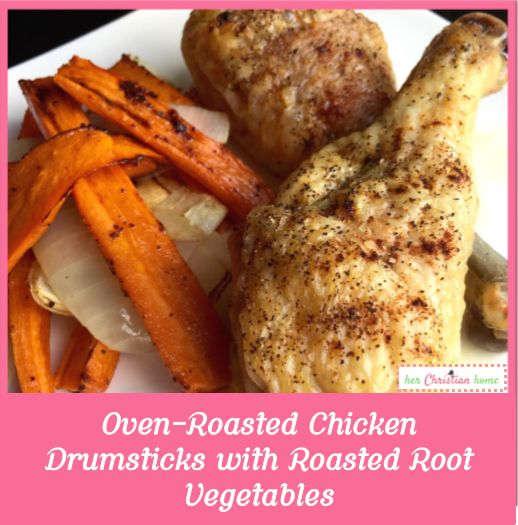 In the fall season and the winter I love using my oven more as double duty to
"heat"
the house and
"roast"
a delicious meal.  The warmth and the inviting smell is so cozy at this time of year.
We tend to cook chicken quite often since it's fairly cheap. So, here's another easy chicken recipe…
Oven-Roasted Chicken Drumsticks with Roasted Root Vegetables
This super easy chicken drumstick recipe delivers crispy, mouthwatering results. You can further simplify this recipe by roasting the chicken and vegetables on a single baking sheet, but using the two-pan method described below yields crispier, more evenly cooked chicken. Plus, it allows you to remove the vegetables from the oven a few minutes earlier than the chicken, if needed.
Featured Product:
Checkered Chef Half Sheet Pan and Rack Set – Aluminum Cookie Sheet Baking Sheet Set with Stainless Steel Oven Safe Cooling Rack (my referral link)
______________________________________________________
Oven-Roasted Chicken Drumsticks with Roasted Root Vegetables
Recipe Notes
Important Tip: Be sure to pat the drumsticks completely dry before seasoning. The skin will not get nice and crispy if you omit this step!
Ingredients:
1 lb. carrots, peeled
1 medium yellow onion
1 T. extra virgin olive oil Salt and black pepper, to taste
6 large chicken drumsticks (with skin)
2 t. smoked paprika
2 t. garlic salt
2 t. onion salt
2 t. black pepper, to taste
Directions:
Arrange oven racks so they are evenly spaced apart before pre-heating to 425°F.
Line two rimmed baking sheets with parchment paper, Silpat baking mats, or aluminum foil and set aside.
Cut carrots into thin slices and onion into wedges before separating into individual slices. Place sliced carrots and onion on one of the prepared baking sheets and drizzle with olive oil. Season with salt and black pepper, to taste, and toss to coat. Spread vegetables into a single layer and set aside.
Place a metal baking rack on the other baking sheet and spray with non-stick cooking spray.
Pat drumsticks completely dry with paper towels. Sprinkle on all sides with smoked paprika, garlic salt, onion salt, and black pepper and arrange seasoned drumsticks on baking rack.
Place both baking sheets into pre-heated oven, with chicken on the upper rack. Roast for 20 minutes, then rotate both baking sheets and roast for another 15-20 minutes, or until an instant-read thermometer inserted into the chicken reads at least 165°F and the vegetables are tender and caramelized. (Depending on your oven and how thin you sliced the vegetables, they may be done a little sooner).
Remove each baking sheet from oven when ready and transfer chicken to a serving platter. Loosely cover chicken with aluminum foil and let rest for 5 minutes before serving with roasted root vegetables.