Stop Cringing When You Step on that Scale!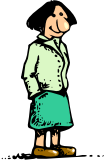 First of all, before I start a series on weight loss and weight maintenance, I would like to say that I don't promote
skinny
. The world constantly creates a mindset which influences us on what we believe is attractive and what isn't.  Each year models seem to become thinner, but you must realize that skinny is not particularly "
healthy
".  Furthermore, our goal as Christian women shouldn't be to lose weight just so that we can flaunt our bodies. I do feel that many women are burdened by weight issues and it is in our best interest to focus on obtaining our best health. After all, good health makes us feel so much better and gives us more energy (and usually requires less trips to the doctor, which is good for the wallet too!).  The good news is that when we eat healthy enough…the weight often disappears naturally without a lot of struggle. I do not suggest diving in to become a "health nut" over night. We might determine that we're never again going to eat a piece of cake or perhaps we challenge ourselves to eat only salads every night for supper.  The downside is that we're automatically setting ourselves up for failure.  It really takes time and consistent small steps forward to make lasting changes. I used to find myself wishing I could have such self-control as some women seem to have when it comes to eating.  (Anyone who knows me really well, knows that I absolutely enjoy food and love to eat!)  Over the last few years, I've discovered that the strong desire to eat healthier so that I can become healthier is the golden key to maintaining one's weight.  It's not necessarily "
eating
less
" as some believe (and to my BIG relief). I cannot brag that I'm the perfect weight.  If I were to continuously compare myself to others, I would always be discontent.  I hope to inspire you ladies to strive for good health and not the perfect figure. Next Monday I'm going to encourage you to "eat more".  I'm also going to share with you 14 foods that can help you become healthier and surprisingly will also help you become a healthier weight.
P.S.
Don't avoid exercise; if you haven't committed to exercising at least 10 min. in the mornings…join me by visiting my previous post on health & fitness (
click here
).  Just leave me a comment!
]]>

<![CDATA[