Can you believe summer is almost here?
The official date for Summer is Saturday, June 21, 2014!
I have a brand new Magazine issue ready for you.
Download it:
Save it to your mobile devices to read at bedtime, standing in the grocery store line, waiting at the doctors office, or whenever you're bored (which I imagine is very seldom).
😉 **If you enjoy HCH's Magazine, would you please help spread the word by sharing it?  I'd really appreciate it, very much!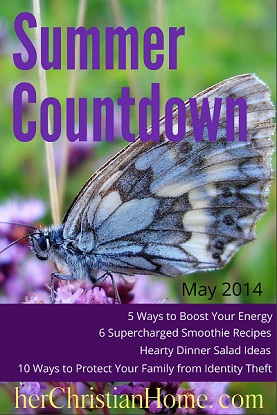 What's in this issue?

– A Personal Note from HCH > 3 – Five Ways to Boost Your Energy > 4 – Ten Ways to Eat Healthier This Summer> 5 – Six Supercharged Smoothies > 8 – Strawberry Sherbet Recipe > 13 – How to Properly Grill Vegetables> 14 – The Right Way To Boil Eggs > 16 – Hearty Dinner Salad Ideas > 18 – Tomato and Avocado Salad Recipe > 20 – Slow Cooker Dessert Ideas > 20 – Crock-Pot Sccpvl610-S Programmable Cook and Carry Oval Slow Cooker – Review > 23 – Which Hand and Body Lotions Should You Use? > 24 – How to Prolong Your Hair Color > 25 – How to Add a Pop of Color to Any Room > 27 – Window Treatment Idea Book – Review > 28 – Credit Card Rules You Should Live By >29 – Ten Ways to Protect Your Family from Identity Theft > 30 – The Smartest Ways to Spend Your Tax Refund > 31 – How to Be a Supportive Friend > 33

]]>

<![CDATA[