The Recipe to Weaning Yourself  From Those Sweets
It can be rough after the holidays trying to get back to normal eating…those cravings for sweets seem to linger on and on.  I don't know about you, but I keep thinking about chocolate fudge and brownies.  The good news is that there are some simple ways to help you start eliminating those sweets from your daily diet.
Here's a few ideas to help you start weaning yourself from all those sweets…
1.  First, start by limiting your sweets to just the weekends or one particular day of the week. 2.  Next, mix smaller batches or portions so that there is only enough to enjoy for that day. (Even better, bake and then share half with a neighbor!) 3.  Start skipping the isle at the grocery store where all the sweets are located. (Don't bring those goodies home that will tempt you!) 4.  Make a decision that you're going to personally make all your treats to save money. (You'll have more control over what ingredients are in your food and more than likely you'll decide that it's not so much worth your time to bake another batch of brownies.) 5.  When possible, use a natural sweetners such as Agave Nectar. 6.  Keep fresh fruits on hand.  (Make it even more special with a fruit salad…it can be refreshing anytime.) 7.  Try using simple recipes that include mainly healthy ingredients without a lot of additives. (So many additives and preservatives cause you to want to eat even more.) 8.  Keep reading healthy articles…they'll inspire you to eat healthier and soon you'll lose interest in junk food.
For a really quick fix I like to make Dark Chocolate Walnut Clusters… as I don't have to add extra flour, sugar or salt, etc.
Dark chocolate
is quickly becoming known for it's beneficial power and
Walnuts
are known as a super food!
Dark Chocolate Walnut Clusters
12 oz. of  Hershey's Special Dark Chocolate Chips 1  square of almond bark 1  and 1/2  to  2 cups of Walnuts (slightly chopped, leaving large pieces)
Preparation Instructions:
Melt Dark chocolate chips and almond bark together. 
You can use a double boiler or simply use the microwave (usually takes about 3-4 min. in the microwave and you need to stir after the first 2 min.).
Melt until you can blend the two ingredients together thoroughly to create a smooth texture.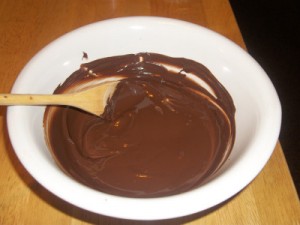 Next, add your walnuts.  Tons of them! Finally, start dipping small spoonfuls on wax paper. 
Afterward, if there's more dark chocolate left, I add some more walnuts and stir again to make a few more clusters until all the chocolate has been used.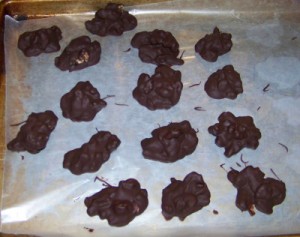 Chill thoroughly an hour or more until well set.  

*Also, keep these stored in the fridge as they will easily melt.

Makes around 24 small clusters. Eating instructions: Enjoy one or two yourself…but don't hoard them for your hips…. share generously with hubby and kids and neighbors.  Store leftovers in fridge. :-P

]]>

<![CDATA[