I love (
love, love, love
) using my iron skillet at home!  Yesterday, a friend of mine on Facebook shared her own recipe for making cornbread in her skillet… and so I
asked
begged for her permission to share with you all!  Thankfully, she caved in and said, "yes"!!! 🙂
Submitted by Cathy Page:
"I have been on a mission to discover the world's best cornbread. After reading a bunch of recipes and doing a little experimenting I think I have found it. This is my own concoction. It always scares the kids a little bit when I experiment like this but they liked this one."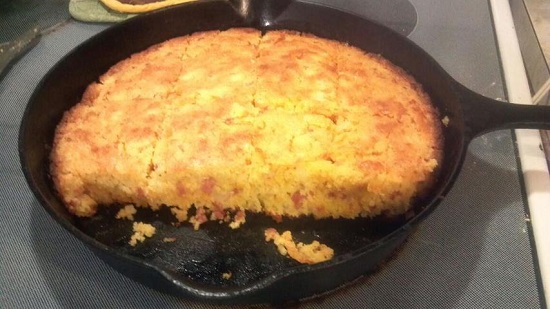 Cathy's Country Cornbread
(It's not really country but that sounded cool.)
Ingredients:
1 cup flour
1 cup cornmeal
1 TB baking powder
1/2 TB salt
2 eggs
1 cup buttermilk
5 TB melted butter
3/4 cup sugar
1/2 finely diced onion
Finely diced ham to taste
Big handful of shredded cheese
Instructions:
Preheat the oven to 400 degrees.
Put 3 tablespoons of butter in a cast iron skillet and place in the oven.
In a bowl combine 1 cup of flour, 1 cup of cornmeal, 1 tablespoon of baking powder, and a half tablespoon of salt. Set aside.
In a separate bowl combine 2 beaten eggs, 1 cup of buttermilk, 5 tablespoons of melted butter, and 3/4 of a cup of sugar. Add in 1 half of a finely diced onion, finely diced ham to taste, and a big handful of shredded cheese.
Pour into the dry ingredients and stir. Poor the batter into the hot cast iron skillet over the melted butter.
Bake for about 35 minutes.
*Cathy's added comment:  "Can you imagine how good it would be with diced up jalapeno peppers in it?"
I think jalapeno peppers would be a "hot idea"!  She gets an A+ for extra creativity! 😉
Please help share my content: