Join our 21 Day Bible Reading Challenge — There's NO cost!
The current Bible reading challenge runs from January 11-31st, 2018  (Preliminary launch day January 10th)
SIDE NOTE: You can jump on board at ANYTIME during this challenge.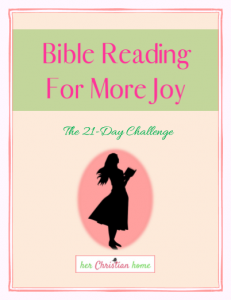 What's happening?
I'll be posting 21 days of encouragement and Bible verses on HCH for this challenge.  This year's theme is based around sparking more JOY.
Should I sign up for the email notifications?
I realize not everyone will want to receive an email reminder everyday, so you are NOT obligated or required to sign up below to participate.
BUT…. all those who do sign up will receive the full curriculum (printable PDF) when I have it completed.  I will send YOU a special download link.
The full curriculum will not be completed until after the challenge is finished BECAUSE I want to make sure to update my curriculum to cover any questions that might be asked during the challenge.
(*Note: After submitting the form below, you should be redirected to a confirmation page that you've successfully joined.  If you're using Google Chrome, there may be issues signing up. If this is your case, please try using another browser to sign up.)
Suggested guidelines for those starting out for the first time:
Decide on a good Bible reading schedule for YOU.  If you don't know where to start, choose Genesis or Matthew and read from there daily for the set amount of time you have allotted.  *See my post on using a FREE software to create a daily Bible reading schedule.
>> If you're finding it difficult to find TIME to read your Bible, consider getting up a bit earlier each day to read your Bible. To break in gradually, try the schedule below. Remember, establishing a new habit is easier if you ease into it "consistently" as possible.
*Week one:  Aim for 10 minutes each morning of reading your Bible.
*Week two:  Aim for 15 minutes each morning of reading your Bible.
*Week three: Aim for 20 minutes each morning of reading your Bible.
*Don't forget to ask the Holy Spirit to speak to you through His Word and help you gain an understanding of His Word.  Ask for wisdom.
After your Bible reading time if finished, invest time in prayer. 
Grab the printable below if you wish to use a printable to track your efforts: