"For the love of money is the root of all evil: which while some coveted after, they have erred from the faith, and pierced themselves through with many sorrows."
"But thou, O man of God, flee these things; and follow after righteousness, godliness, faith, love, patience, meekness." – First Timothy 6:10 and 11 KJV
Paul instructed Timothy to be different from those who strived for riches and material possessions.
God's Word says that "loving" money and wealth is the root of evil and will bring about many sorrows. It's not that having those things will ruin us; it's the LOVE of it and the greed for more. For this reason, we should avoid the potential pitfall of coveting after material wealth.
If you notice, in today's Bible reference in I Timothy 6:11, Paul shares a little Spiritual Checklist…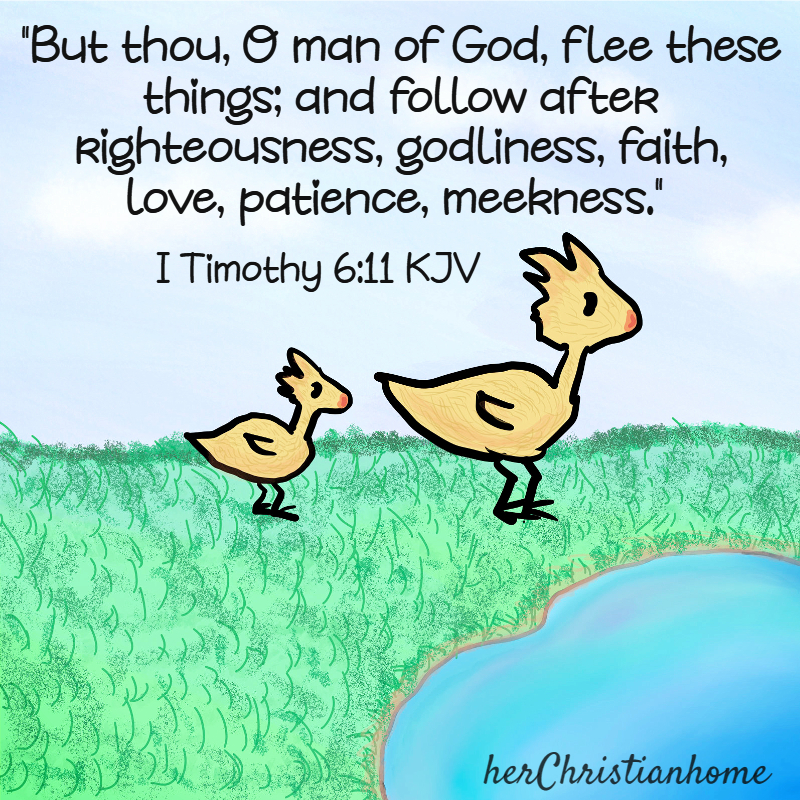 You and I, as Christians, are to follow after righteousness, godliness, faith, love, patience, and meekness.
With this little spiritual checklist, we are not missing out. True riches are in serving our Great King!
As an additional note, I'd like to add a Bible verse from Proverbs which informs us what is most beneficial in our Christian lives…
"Wisdom is the principal thing; therefore get wisdom: and with all thy getting get understanding." – Proverbs 4:7
With wisdom, I believe we will want to follow the whole spiritual checklist from God's Word. It is our LIFE GUIDEBOOK.
In saying that, I'm sharing a Spiritual checklist in alphabetical order today…
Faith
Bible verses on having faith…
Mark 11:22 – And Jesus answering saith unto them, Have faith in God.
Romans 10:17 – So then faith cometh by hearing, and hearing by the word of God.
2 Corinthians 5:7 – For we walk by faith, not by sight:
Ephesians 2:8 – For by grace are ye saved through faith; and that not of yourselves: it is the gift of God:
Hebrews 11:6 – But without faith it is impossible to please him: for he that cometh to God must believe that he is, and that he is a rewarder of them that diligently seek him.
Godliness
Bible verses on being Godly…
Psalms 1:1 – Blessed is the man that walketh not in the counsel of the ungodly, nor standeth in the way of sinners, nor sitteth in the seat of the scornful.
Romans 8:6 – For to be carnally minded is death; but to be spiritually minded is life and peace.
Romans 12:1 – I beseech you therefore, brethren, by the mercies of God, that ye present your bodies a living sacrifice, holy, acceptable unto God, which is your reasonable service.
1 Timothy 4:8 – For bodily exercise profiteth little: but godliness is profitable unto all things, having promise of the life that now is, and of that which is to come.
I Timothy 6:6 – But godliness with contentment is great gain.
2 Peter 3:11 – Seeing then that all these things shall be dissolved, what manner of persons ought ye to be in all holy conversation and godliness,
Love
Bible verses on loving God and others…
John 14:15 – If ye love me, keep my commandments.
1 Corinthians 16:14 – Let all your things be done with charity.
Galatians 5:14 – For all the law is fulfilled in one word, even in this; Thou shalt love thy neighbour as thyself.
1 John 4:7 – Beloved, let us love one another: for love is of God; and every one that loveth is born of God, and knoweth God.
1 John 4:8 – He that loveth not knoweth not God; for God is love.
Meekness
Bible verses on being meek…
Psalms 37:11 – But the meek shall inherit the earth; and shall delight themselves in the abundance of peace.
Matthew 5:5 – Blessed are the meek: for they shall inherit the earth.
Titus 3:2 – To speak evil of no man, to be no brawlers, but gentle, shewing all meekness unto all men.
James 3:13 – Who is a wise man and endued with knowledge among you? let him shew out of a good conversation his works with meekness of wisdom.
1 Peter 3:4 – But let it be the hidden man of the heart, in that which is not corruptible, even the ornament of a meek and quiet spirit, which is in the sight of God of great price.
Patience
Bible verses on being patient…
Ecclesiastes 7:8 – Better is the end of a thing than the beginning thereof: and the patient in spirit is better than the proud in spirit.
Isaiah 40:31 – But they that wait upon the LORD shall renew their strength; they shall mount up with wings as eagles; they shall run, and not be weary; and they shall walk, and not faint.
Romans 12:12 – Rejoicing in hope; patient in tribulation; continuing instant in prayer;
Galatians 5:22 – But the fruit of the Spirit is love, joy, peace, longsuffering, gentleness, goodness, faith,
Ephesians 4:2 – With all lowliness and meekness, with longsuffering, forbearing one another in love;
James 1:4 – But let patience have her perfect work, that ye may be perfect and entire, wanting nothing.
Righteousness
Bible verses on living a righteous life…
Psalms 5:12 – For thou, LORD, wilt bless the righteous; with favour wilt thou compass him as with a shield.
Isaiah 33:15 and 16 – He that walketh righteously, and speaketh uprightly; he that despiseth the gain of oppressions, that shaketh his hands from holding of bribes, that stoppeth his ears from hearing of blood, and shutteth his eyes from seeing evil; He shall dwell on high: his place of defence shall be the munitions of rocks: bread shall be given him; his waters shall be sure.
Matthew 6:33 – But seek ye first the kingdom of God, and his righteousness; and all these things shall be added unto you.
First Peter 3:14 – But and if ye suffer for righteousness' sake, happy are ye: and be not afraid of their terror, neither be troubled;
First John 2:28 and 29 – And now, little children, abide in him; that, when he shall appear, we may have confidence, and not be ashamed before him at his coming. If ye know that he is righteous, ye know that every one that doeth righteousness is born of him.
Wisdom
Bible verses on wisdom…
Proverbs 3:13 – Happy is the man that findeth wisdom, and the man that getteth understanding.
Proverbs 19:20 – Hear counsel, and receive instruction, that thou mayest be wise in thy latter end.
Ephesians 5:15 – See then that ye walk circumspectly, not as fools, but as wise,
Colossians 3:16 – Let the word of Christ dwell in you richly in all wisdom; teaching and admonishing one another in psalms and hymns and spiritual songs, singing with grace in your hearts to the Lord.
James 1:5 – If any of you lack wisdom, let him ask of God, that giveth to all men liberally, and upbraideth not; and it shall be given him.

James 3:17 – But the wisdom that is from above is first pure, then peaceable, gentle, and easy to be intreated, full of mercy and good fruits, without partiality, and without hypocrisy.
So, how are you doing today? What will be your score?
If you're like me, you might have a ways to go on the spiritual path. That's one reason I have endeavored with this writing ministry…. that is, to encourage YOU and myself to read our Bible more so that you and I can know and follow all of God's instructions.
I'll end with one of my favorite Bible verses that instructs us on the right thoughts to have in our daily journey…
Finally, brethren, whatsoever things are true, whatsoever things are honest, whatsoever things are just, whatsoever things are pure, whatsoever things are lovely, whatsoever things are of good report; if there be any virtue, and if there be any praise, think on these things. – Philippians 4:8 and 9.
Keep walking in faith,
Rhonda White