The purpose of today's post is specifically for those of you who have already accepted Jesus' gift of eternal life, but still struggle with DOUBT.
SIDE NOTE: If there's NEVER been a time when you've accepted Jesus as your Savior, WHO paid your way to Heaven, then please read this post: https://herchristianhome.com/why-im-a-guilty-sinner-and-needed-forgiveness/
Why is assurance of our Salvation necessary?
>> First, We won't have true VICTORY and PEACE in our life until we get it settled.
Satan would like nothing more than to see us squirm in misery and doubt the rest of our lives.
God NEVER wanted to leave us hanging in DOUBT of His power to keep us saved and secure. One of Satan's means of destroying our peace is to get us to DOUBT God!
>> Secondly, we will fail to win others for Christ when we DOUBT our own salvation.
How can we win others to Christ with confidence, when we're living in DOUBT ourselves? Again, this is why DOUBT is such a useful tool of Satan to hinder Christians from being effective witnesses.
"That the communication of thy faith may become effectual by the acknowledging of every good thing which is in you in Christ Jesus. " – Philemon 1:6 kjv
>> Thirdly, we will be stunted in our spiritual growth.
How can we move forward and "grow up" spiritually when we're left dangling in DOUBT? Doubting our salvation leaves us spiritually stunted.
Five Common Reasons Why Some Christians Might DOUBT their Salvation…
>> They Can't Remember the Day of Their Salvation
Some people simply fail to remember the specific day of their Salvation. Or, maybe it's just too foggy.
We don't need to remember every little detail of that day, but if you truly cannot remember the day of your salvation, then it's a good time to get this settled right now.
There's no reason to hang your head in shame because everyone "thought" you were already saved. Just get it settled once for all! Write today's date down in your Bible and live no longer in FEAR but in FAITH!
>> They Compare Their Christian Walk / Testimony with Others
Salvation is a personal experience for each one of us. Some have great testimonies of how they were living in wicked sin, and God completely changed their lives around. We stand in awe of the astounding evidence of how much God has changed their lives!
If you grew up in a godly Christian home, then you may struggle with seeing this HUGE change in your life after salvation.
Furthermore, you may see Christians who seem to have such a "mighty" walk with the Lord, and in comparing yourself with what they've accomplished you may find yourself doubting your true Christianity.
Remember that YOUR salvation testimony is just as important as anyone else's. If you were the ONLY person on the face of this earth, Jesus would have still come to die for YOU personally.
God's Word says that it's NOT wise to compare ourselves.
"For we dare not make ourselves of the number, or compare ourselves with some that commend themselves: but they measuring themselves by themselves, and comparing themselves among themselves, are NOT wise." – II Corinthians 10:12 kjv

>> They Can't Understand How Salvation Can be So Simple.
We often feel like we must actually "DO" something to accomplish such a great feat in getting ourselves accepted into Heaven.
In a sense, we're still hanging on to SELF DEPENDENCY — NOT GOD DEPENDENCY!
Remember, we could NEVER do enough good on our own to merit ourselves an entrance into Heaven.
"NOT by WORKS of righteousness which we have done, but according to his mercy he saved us, by the washing of regeneration, and renewing of the Holy Ghost; Which he shed on us abundantly through Jesus Christ our Saviour; That being justified by his grace, we should be made heirs according to the HOPE of eternal life." – Titus 3:5-7 kjv
WHY – OH WHY would Christ die and suffer on the cross for our sins IF we could obtain salvation ourselves?!?
Jesus was the ONLY PERFECT sacrifice for the sins of the whole world. You and I were born sinners. I could never die for your sins because I'm a sinner myself.
"For when we were yet without strength, in due time Christ died for the ungodly." – Romans 5:6 kjv
Christ died for SINNERS — not for the perfect, which perfection is unattainable anyway!
>> They struggle with sin in their life.
Living in sin makes one doubt he or she is a true child of God. This is especially true because living in sin means we're walking in the flesh. The HOLY SPIRIT within us is weakened by our carnal state.
Not yielding to the Holy Spirit's will (to put away sin and say "no" to the flesh) keeps us living a defeated Christian life.
When a child of ours does wrong, do we disclaim him or her as our own child? NO! But, it sure does leave us feeling frustrated and hurt by their continual disobedience!
>> They're torn mentally and emotionally by doctrinal errors that's been flaunted around by others
This is why reading God's Word for yourself is so important! We cannot grow spiritually stronger in our faith without reading it. It is our FOUNDATION to a godly, successful Christian life!
The Holy Spirit living inside the Christian is called the "Spirit of Truth."
"Even the SPIRIT of TRUTH; whom the world cannot receive, because it seeth him not, neither knoweth him: but ye know him; for he dwelleth with you, and shall be in you. I will NOT leave you COMFORTLESS: I will come to you. " – John 14:17,18 kjv
Make sure you are feeding the spirit (EVERYDAY) more than you are feeding from the things of the world, so that the spirit of truth can grow within you…and you are not easily swayed away by false doctrines of this world!
May I DARE say that MOST doubting of our salvation is simply not feasting on the Word of GOD often enough?! Increase your Bible reading and see if that doesn't solve it here and now!
Bible Verses that we should memorize to assure us of our Salvation….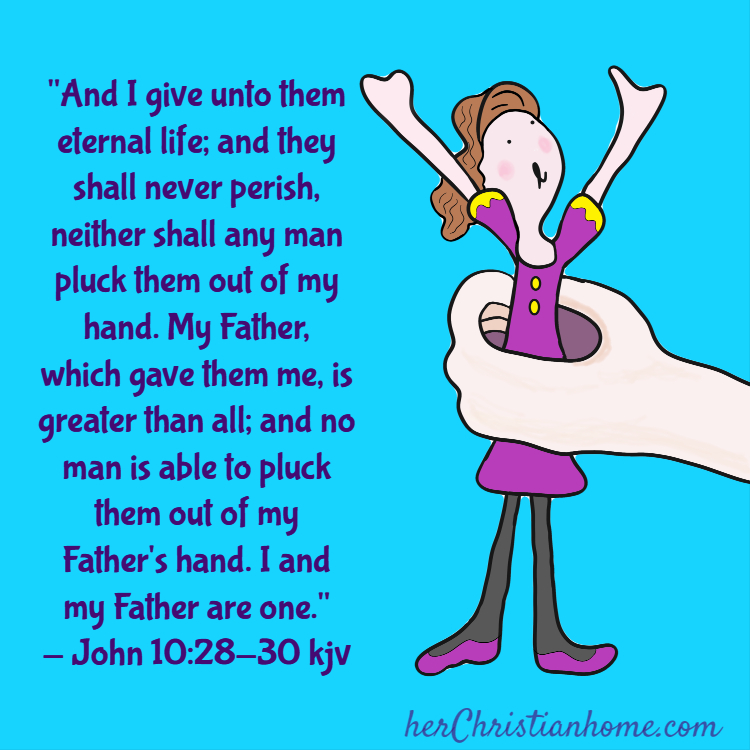 "And I give unto them eternal life; and they shall NEVER perish, NEITHER shall any man pluck them out of my hand. My Father, which gave them me, is GREATER than all; and NO man is able to pluck them out of my Father's hand. I and my Father are one."

John 10:28-30 kjv
"And this is the RECORD, that God hath given to us eternal life, and this life is in his Son." – John 5:11 kjv
"For God so loved the world, that he gave his only begotten Son, that whosoever believeth in him should NOT perish, but have everlasting life." – John 3:16 kjv
"In hope of eternal life, which God, that CANNOT lie, PROMISED before the world began;" – Titus 1:2 kjv
"But this man, after he had offered ONE sacrifice for sins FOR EVER, sat down on the right hand of God;" – Hebrews 10:12 kjv
*SIDE NOTE: Jesus didn't have to die multiple times for us… He died ONCE — We only have to ask Jesus as our Savior once! From then on, He never departs from us! We're a FOREVER child of God!
"For the Lord loveth judgment, and FORSAKETH NOT his saints; they are PRESERVED for ever: but the seed of the wicked shall be cut off." – Psalm 37:28 kjv
"Wherefore he is ABLE also to SAVE them to the UTTERMOST that come unto God by him, seeing he ever liveth to make intercession for them." – Hebrews 7:25 kjv
"Labour not for the meat which perisheth, but for that meat which endureth unto everlasting life, which the Son of man shall give unto you: for him hath God the Father SEALED." – John 6:27 kjv
KNOW….
"These things have I written unto you that believe on the name of the Son of God; that ye may KNOW that ye have eternal life, and that ye may believe on the name of the Son of God." – I John 5:13 kjv
"And we KNOW that the Son of God is come, and hath given us an understanding, that we may KNOW him that is true, and we are in him that is true, even in his Son Jesus Christ. This is the true God, and eternal life." – I John 5:20 kjv
"And this is life eternal, that they might KNOW thee the only true God, and Jesus Christ, whom thou hast sent." – John 17:3 kjv
As you can see from the above Scriptures…. GOD wanted us to have the ASSURANCE of our Salvation — He wanted us to have that blessed HOPE and to KNOW!
If you are struggling with doubting your salvation, then PLEASE consider memorizing the Bible verses given in this post. It will feed the Spirit of Truth within you and grow your FAITH!
May God bless you and your home,
Rhonda White