How well do you know the Lord God? Isn't it important to know which things please God and which things displease Him so that we ourselves can please God and be blessed?
The word, DELIGHT means "to please greatly." Today's mini Bible study is based on eight things that DELIGHT the Lord, meaning it pleases Him greatly.
Eight Things that DELIGHT the Lord
1. Obedience and Hearkening (Listening)
"And Samuel said, Hath the LORD as great delight in burnt offerings and sacrifices, as in obeying the voice of the LORD? Behold, to obey is better than sacrifice, and to hearken than the fat of rams." – I Samuel 15:22 kjv
So many people get busy "doing" things to serve God at church or in the community, but they do not listen nor submit in other areas of obedience to the Lord. If we want to truly DELIGHT the Lord today, we must be fully open to listen and yield to His will and leading.
*Side note: Disobedience is a huge issue to God! Look what Jeremiah 12:17 says…
"But if they will not obey, I will utterly pluck up and destroy that nation, saith the LORD." – Jeremiah 12:17 kjv
Oh, how our nation needs revival! And, I do believe the obedience of God's children, doing what we should do, can be used as a means to direct our nation back to God.
2. Those the Lord Corrects
"For whom the LORD loveth he correcteth; even as a father the son in whom he delighteth." – Proverbs 3:12 kjv
I'm not saying that the Lord gets a big thrill out of correcting us, but rather because He delights in us and loves us, He corrects us.
Correction can be a struggle to receive, but when we understand how much God loves us, we will also understand that He will correct us just like we do our own beloved children.
3. A High Standard of Integrity and Honesty
"A false balance is abomination to the LORD: but a just weight is his delight." – Proverbs 11:1 kjv
From studying commentaries, a beam balance was commonly used for measuring weight. "A false balance" refers to the balance itself being deceitfully constructed, by one end of the beam being longer than the other. "A just weight" was referring to a time when stones rather than metal were used as a standard of weight.
The takeaway here is that we can see the weight of importance and DELIGHT God has in our own high standards of honesty and moral principles.
4. Uprightness
"They that are of a froward heart are abomination to the LORD: but such as are upright in their way are his delight." – Proverbs 11:20 kjv
We do not want to be one who is stubborn, contrary and difficult. I believe the "upright" are those who are honestly seeking to do right and please God.
Don't you want to be one who DELIGHTS the Lord?! Yield to Him! Make a commitment to do right!
5. Those Who Speak Truth and Act Sincerely
"Lying lips are abomination to the LORD: but they that deal truly are his delight." Proverbs 12:22 kjv
Television is just one source that has encouraged people to lie as if it's the "normal" thing to do. From God's Word, we can see that the Lord HATES lying, false doctrines and hypocrisy.
Let's always speak the truth, dealing honestly and sincerely with others. I want to be the Lord's DELIGHT, don't you?!
6. The Prayer of the Upright
"The sacrifice of the wicked is an abomination to the LORD: but the prayer of the upright is his delight." – Proverbs 15:8 kjv
In the verse above, "The costly sacrifice (religious services) of the wicked is contrasted with the prayer, unaccompanied with sacrifice, of the upright." (*Commentary; https://biblehub.com/)
Our sincere prayers (when our heart is honestly seeking to please and do God's will) is God's DELIGHT. It doesn't cost us a huge sacrificial offering to delight the Lord; we can better delight the Lord in the sincere yielding and prayer of our heart to the Lord.
7. Lovingkindness, Judgment and Righteousness
"But let him that glorieth glory in this, that he understandeth and knoweth me, that I am the LORD which exercise lovingkindness, judgment, and righteousness, in the earth: for in these things I delight, saith the LORD." – Jeremiah 9:24 kjv
This verse lays in out so clearly and directly to understand what DELIGHTS God the most!
The Lord is full of lovingkindness. He exercises good judgment. He's always right and just. He is full of righteousness, and there is no sin in Him.
We should want to follow and seek these things as well. Don't you want to DELIGHT the Lord by walking righteously?!
8. Mercy
"Who is a God like unto thee, that pardoneth iniquity, and passeth by the transgression of the remnant of his heritage? he retaineth not his anger for ever, because he delighteth in mercy." Micah 7:18 kjv
I am so grateful for God's mercy. We do not receive all that we deserve for our sin and wrongdoing. God's mercy is great because He loves us greatly!
God DELIGHTS in giving mercy! Should we not also DELIGHT God by being merciful to others?
"But God, who is rich in mercy, for his great love wherewith he loved us," – Ephesians 2:4 kjv
Let's work on delighting God this week!
Here's WHY you should want to DELIGHT the Lord….
BLESSINGS! BLESSINGS! BLESSINGS!
"He brought me forth also into a large place; he delivered me, because he delighted in me." – Psalm 18:19 kjv
"Blessed are they that keep his testimonies, and that seek him with the whole heart." – Psalm 119:2 kjv
"Delight thyself also in the LORD; and he shall give thee the desires of thine heart." – Psalm 37:4 kjv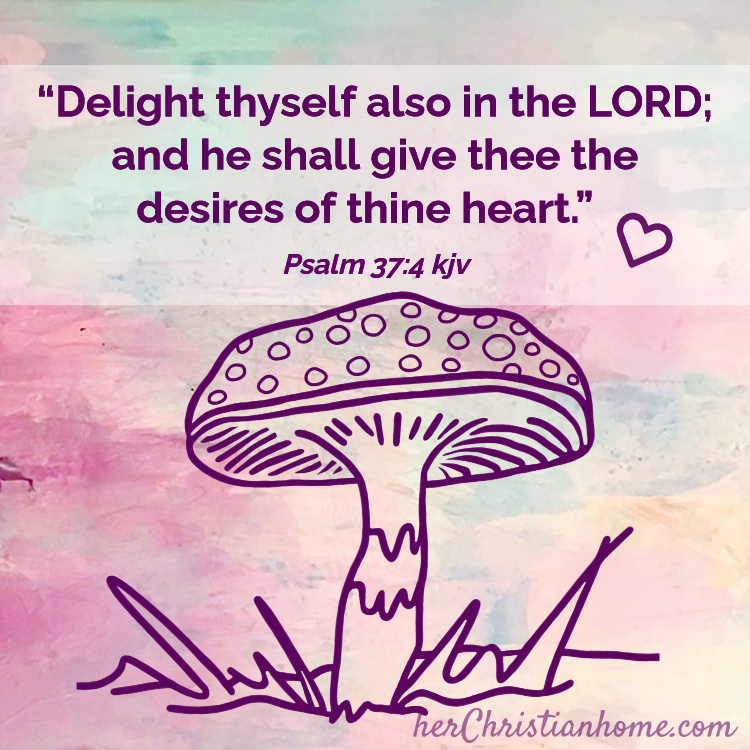 My friend, keep walking in faith!
Rhonda White