I would say one of my faulty weaknesses is FEAR.
David often spoke in Psalms about FEAR and being afraid. (In the past, I have referred to Psalms as sort of being David's journal.)
David certainly had a reason to be afraid when Saul and his huge army set out to kill him. He says…
"For I have heard the slander of many: FEAR was on every side: while they took counsel together against me, they devised to take away my life." – Psalm 31:13 kjv
Sometimes I'm surprised at David's FEAR, since he courageously brought down Goliath, the giant. Could not the same God that helped him destroy the giant, help him destroy his enemies?
We have to remember; however, COURAGE is the action we take, despite our FEAR. Being courageous doesn't mean that we're not afraid. Our eyes can look around and see the devastating dangers. Our hearts can quickly be overwhelmed by the surrounding circumstances.
It comes down to you and I NEEDING to make a choice… To walk in FAITH during our FEARFUL times… To trust GOD that whether we live or perish, GOD is always in control of the outcome.
I admire David. Twice he had the opportunity to take Saul's life, but he refused to touch the "Lord's anointed."
A good quote I recently read is that, "David overcame revenge by letting GOD even the score!" We can learn from his resolve to do right, even during a life-threatening situation.
Saul, himself, admitted that he knew David would be king someday…
"And now, behold, I know well that thou shalt surely be king, and that the kingdom of Israel shall be established in thine hand." – I Samuel 24:20 kjv
And again we see Saul admitting that David would triumph…
"Then Saul said to David, Blessed be thou, my son David: thou shalt both do great things, and also shalt still prevail. So David went on his way, and Saul returned to his place." – I Samuel 26:25 kjv
Yet, the very next Bible verse, David was still asserting in his heart that he would perish by the hand of Saul.
"And David said in his heart, I shall now perish one day by the hand of Saul: there is nothing better for me than that I should speedily escape into the land of the Philistines; and Saul shall despair of me, to seek me any more in any coast of Israel: so shall I escape out of his hand." – I Samuel 27:1 kjv
I believe we are ALL a bit like David, in that we get overwhelmed and weary by our circumstances; we feel weak and helpless. Our flesh becomes fearful. We sometimes still find ourselves doubting the outcome of our grim situation, even after hearing a positive affirmation. We have a hard time of letting go and moving forward.
To gain COURAGE and overcome FEAR — we MUST keep our eyes on GOD above, Who is our strength, our protector, our conqueror. He is our EVERYTHING!
Just as David battled Goliath with GOD'S help, we, too, can have courage to swing our slingshot toward our enemy, Satan, as well as all the overwhelming plights we may be facing.
Although David faced FEAR, he learned how to have COURAGE and overcome his fears by trusting God.
We can learn from David's COURAGE, and how he dealt with FEAR as we read through the book of Psalms. David learned that God was able to deliver him from ALL his fears. (*See Bible verses below.)
Psalms speaks much about two types of FEAR:
The fleshly FEAR (fear of man and circumstances that rob our peace, until we let GOD take charge)
The FEAR of the Lord (a healthy, godly fear that brings good results in our life, helping us avoid the pitfalls of sin)
Below are a few Bible verses about FEAR from the book of Psalms: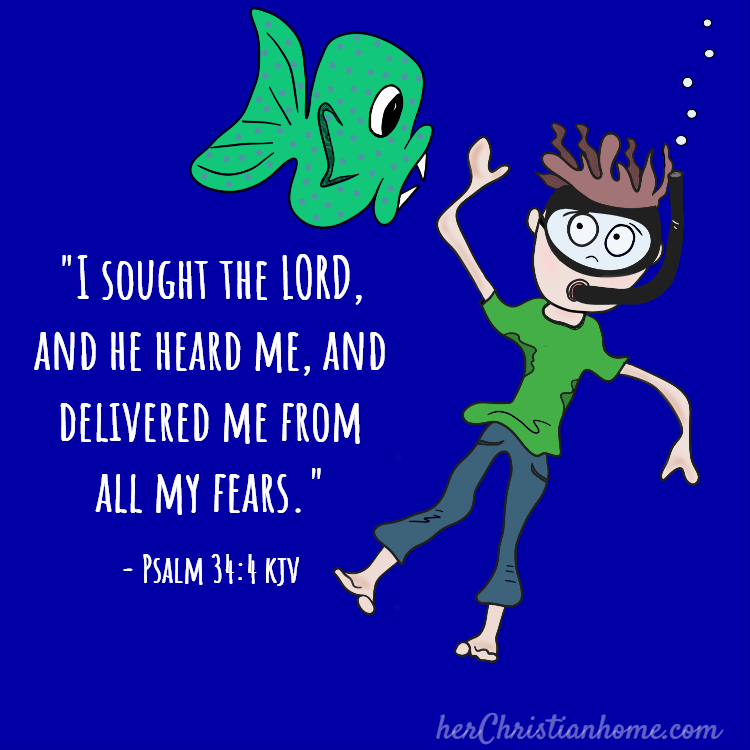 David overcomes fleshly FEAR:
"I will not be afraid of ten thousands of people, that have set themselves against me round about." – Psalm 3:6 kjv
"Yea, though I walk through the valley of the shadow of death, I will fear no evil: for thou art with me; thy rod and thy staff they comfort me." – Psalm 23:4 kjv
The LORD is my light and my salvation; whom shall I fear? the LORD is the strength of my life; of whom shall I be afraid? – Psalm 27:1 kjv
"Though an host should encamp against me, my heart shall not fear: though war should rise against me, in this will I be confident." – Psalm 27:3 kjv
"I sought the LORD, and he heard me, and delivered me from all my fears." – Psalm 34:4 kjv
"What time I am afraid, I will trust in thee. In God I will praise his word, in God I have put my trust; I will not fear what flesh can do unto me." – Psalms 56:3,4 kjv
"The LORD is on my side; I will not fear: what can man do unto me?" – Psalm 118:6 kjv
David possesses godly FEAR – One of reverence and obedience to our mighty God.
"What man is he that feareth the LORD? him shall he teach in the way that he shall choose." – Psalm 25:12 kjv
"The secret of the LORD is with them that fear him; and he will shew them his covenant." – Psalm 25:14 kjv
The angel of the LORD encampeth round about them that fear him, and delivereth them." – Psalm 34:7 kjv
"Like as a father pitieth his children, so the LORD pitieth them that fear him." – Psalm 103:13 kjv
"But the mercy of the LORD is from everlasting to everlasting upon them that fear him, and his righteousness unto children's children;" – Psalm 103:17 kjv
"The fear of the LORD is the beginning of wisdom: a good understanding have all they that do his commandments: his praise endureth for ever." – Psalm 111:10 kjv
"Praise ye the LORD. Blessed is the man that feareth the LORD, that delighteth greatly in his commandments." – Psalm 112:1 kjv
"Ye that fear the LORD, trust in the LORD: he is their help and their shield." – Psalm 115:11 kjv
"He will bless them that fear the LORD, both small and great." – Psalm 115:13 kjv
" Blessed is every one that feareth the LORD; that walketh in his ways." – Psalm 128:1 kjv
"He will fulfil the desire of them that fear him: he also will hear their cry, and will save them." – Psalm 145:19 kjv
"The LORD taketh pleasure in them that fear him, in those that hope in his mercy." – Psalm 147:11 kjv
Today, I want to encourage you to build your FAITH until it's bigger than your FEARS… TRUST GOD!
Be the courageous warrior, like David, who experienced fearful times, but learned to trust our Mighty, All-Powerful God through it all!
May God bless you and your family,
Rhonda White