That I may publish with the voice of thanksgiving, and tell of all thy wondrous works. – Psalm 26:7
Today, is a simple journal of thanksgiving for all my favorite things that God has allowed me to enjoy. I challenge you to write 100 things for which you are thankful in your own journal or on a sheet of paper.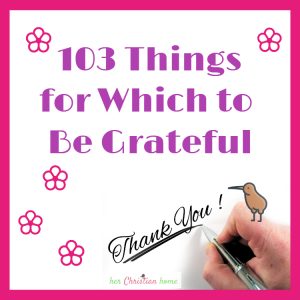 103 Things for Which I'm Thankful…
Apples – They make a delicious pie! And they look beautiful in painted pictures.
Aprons – They keep my clothes from spots and stains.
Bible – God's love letter to me…. meant to be cherished and read daily.
Birds chirping – They sing beautiful songs about God's beautiful creation.
Bicycle – This is my favorite way to exercise….I also get to enjoy fresh air and beautiful scenery at the same time.
Candles – A simple pleasure of enjoying wonderful scents.
Campfires – Warmth on a chilly evening… roasted hot dogs and marshmallows.
Car – This carriage helps me travel quickly and avoid much walking…preserving my feet from torture.
Chairs – I have three favorite ones – A pretty wooden one in my kitchen, my office chair, and my cute little recliner.
Change of seasons – I enjoy seeing the beautiful changes of nature.
Cheese – My favorite dairy product…and adding it to leftovers makes old food feel more inviting.
Chocolate – An important anecdote during stressful times.
Clean sheets – Don't they feel so wonderful!?!
Clothes – It's fun to wear my favorite colors. It would sure be embarrassing without them. LOL
Clouds – So many things to see… they stretch the imagination.
Coffee – Love the aroma. Love the perks of extra energy.
Cookies – A simple, delightful, portable treat that's perfect for any time of the day.
Date night – Time with my hubby….and usually a delicious treat or meal to enjoy.
Desk – I love sitting at a desk. It affords the opportunity to take care of business in a functional way.
Dessert – There's so many tasteful ones to enjoy… but a piece of apple, blueberry, lemon, peach or pecan pie is my favorite!
Eggs – New birds hatch. Chicken eggs are delicious and assist in making many delightful treats.
Elevators – Although they can be a little scary at times, I appreciate their lift!
Fall leaves – My hubby and I enjoy the beautiful array of fall colors. It's our favorite season.
Family – An absolutely wonderful gift from the Lord God in which many memories are made.
Flowers – Although I'm not big on purchased flowers, I do enjoy seeing tulips and roses.
Friends – Good friends are generous gifts from the Lord. God sure has blessed me with great friends!
Fruit – The guilt-free sweet treat. Love them all!
Funny dreams – Love sharing a giggle with others about a funny dream I had.
Fuzzy socks – They're a cozy delight to my feet…and they keep them warm.
Giraffes – I like collecting this particular zoo animal figurine. They remind me to stand tall for Jesus!
Grandparents – They love you and spoil you like no one else. LOL Mine are now enjoying Heaven, but I'm so thankful for the memories.
Gravy – This stuff is amazing over biscuits, eggs, sausage, hash browns, turkey, chicken, potatoes…and the list goes on.
Good hair days – 'Cause bad ones make me feel a little lousy. LOL
Grilled cheese sandwiches – Divine melted cheese! Oh, the luxury of eating a perfectly, grilled cheese sandwich.
Guitar – I love the memories of my dad playing the guitar and singing with him during my youth.
Hamburgers – I love this simple meal… better choice than a steak!
Health – The older you get, the more you realize how important it is to take care of yourself.
Hot chocolate – A cozy drink… perfect to celebrate the first snow of the season.
Hot showers – This is a luxury I don't take for granted, especially since I hate being cold. lol
Hubby – He loves me so much and works so hard. He's a romantic and thinks of me often.
Hugs – They make you feel loved and cherished.
Humor – Wouldn't it be a sad world if we were serious ALL the time?!?
Ice – I love LOTS of ice in my drinks. I can't imagine life without ice. Seriously.
Ice cream – One of my weaknesses… my favorite flavor is buttered pecan.
Internet – I have to admit that I enjoy the internet. It allows me to connect with distant friends, and offers the means to research information and learn.
Jelly and Jam – Makes any toast or biscuit a treat.
Jesus – He paid the penalty of my sins so that I could enjoy eternal life in Heaven.
Jokes – My youngest son likes to hear and share good jokes. This always makes me smile.
Kindness – When others are kind to me, I feel like it's a hug from God.
Lavender fields – I Love the scent and color of lavender!
Lamps – I enjoy a homey lamp sitting near my bed and on my desk.
Lemons – I love the citrus scent and flavor.
Love – Without it, life would feel hopeless. God loves each one of us — you and I!!
Mascara – I'm thankful for the way God made me, but it's nice to add some length to my scarce eyelashes. LOL
Money – A blessing to supply food for the table. A necessity to pay the bills.
Music – Calms the soul. Songs are a wonderful tool to sing praises to God.
Noodles – I LOVE chicken and noodle soup… or practically any pasta dish.
Numbers – They're so practical for organizing, finding houses, counting what you have…and the list goes on….
Nuts – I rarely make a dessert without tossing in nuts. I love them so much!
Ocean – Everything beautiful… the massive view, the waves, the sound, the creatures that swim in it, the buried treasures.
Oranges – I love the citrus scent. I love the color and flavor of oranges.
Paint – What pretty pictures are done with colorful paints! It's also a great way to cheaply remodel a room.
Paper – I really love and appreciate paper…the feel of it…the ability to draw and write on it…the pretty cards created.
Parents – I was blessed to have Christian parents to raise me and train me up to follow God's Word.
Pencils and Pens – I love being able to write down my thoughts…and to communicate through writing.
Picnics – The opportunity to enjoy bring fun and family together.
Pillows – The soft, plump mass helps me sleep in comfort.
Pizza – My three sons' favorite food! I have to admit that I love it, too!
Photographs – These are moments and memories permanently captured on camera.
Puppies – Adorable, sweet, playful and fun to snuggle.
Quiet – A little quiet time in the mornings is a great time to reconnect with God.
Quotes – I enjoy hearing (and writing down) quotes from my pastor and devotionals that I read.
Rain – The sound of gentle rain coming down makes a peaceful sleep. In the spring, it brings new life.
Rainbows – Love the beautiful colors that God's given us to enjoy. A rainbow reminds me of God's promises.
Refrigerator – I appreciate much the job it does to keep my food from spoiling.
Restaurants – No cooking and cleanup. Yippee!
Road trips – It's so nice to get away and take off on a new adventure.
Rocking Chairs – Brings back memories of sitting in my grandmother's rocking chairs on her porch.
Scissors – I just can't express how handy scissors are… I have a deep appreciate for this simple tool.
Shoes – It's tough to walk on gravel and stickers without them…but have to admit that I also appreciate a pretty pair of shoes.
Sleep – Let's just say… me trying to function without sleep is a huge disaster. I need my sleep! lol
Snow – It's so beautiful! It also reminds me of how our sins are washed as white as snow because of Christ's sacrifice.
Sons – God blessed me with three wonderful sons… each one is a special blessing to me.
Spellcheck – I used to be a really good speller, but the older I get, my memory fades a bit. This feature saves me a ton of time.
Stars – God made the beautiful, twinkling stars on the fourth day of creation. They make the night sky so beautiful!
Subscribers – I'm grateful for my readers and newsletter subscribers… they are what makes my writing ministry a blessing.
Sunflower fields – It's on my bucket list to get a photo of me surrounded by all the numerous, large, yellow blossoms.
Sunrises – Reminds me of new beginnings… a fresh new start without any mistakes… an opportunity to accomplish new things.
Sunsets – The beautiful, burnt-orange colors are a lullaby from God to get us ready for a restful night.
Sweaters – I enjoy cozy, warm sweaters in the chilly fall and winter time.
Tea – Inviting aromas…so many choices to venture and enjoy!
Trees – Love their individual, beautiful structures. Love the view of treetops, whether on a mountain or in a valley.
Today – Each day is a gift from God.
Toilets – Inside ones are a great convenience. Oh, how I'm thankful to not have to visit an outhouse on cold, frosty mornings.
Umbrellas – Their purpose is suitable for keeping me dry on a rainy day… and they come with some adorable patterns and colors.
Vases – They're pretty, and they hold pretty flowers.
Vicks – This stuff is amazing for clearing your nostrils so that you can breath better when congested. LOL
Wash machine – We don't have to wear smelly, dirty clothes. Relief!
Water – Quenches thirst. One of the biggest essentials for our well-being. Our adult bodies are made up of 60% water.
Waterfalls – They're beautiful to watch… listening to them is calming.
X – I appreciate this letter's design (It's fun and fast to write), and I love it's sound in a word.
Youth – I love the energy of the young people. Wish I could borrow some of their energy. LOL
Zoo – I'm thankful for the opportunities that I've had to get a close view of God's creatures.
YOUR TURN!  Please share in the comments below something for which you are grateful for today.