It's time for another "Book Blessings" video…
Title: More Character >> The one thing money can't buy — the one thing you can't afford to be without!
Author: Jeff Owens
This entire book is dedicated to building Christian character. In my video, I covered the topic, "How to Save Money While Grocery Shopping and Still Eat Well."  – Page 185 & 186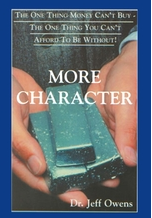 Where to buy: http://owenspublications.com/more-character/
Mini Devotional for my Readers Today:
For me, working on being frugal takes character. It's important to instill discipline and a frugal mindset in order to spend money wisely that God's given to me. There are times that I find myself falling off the bandwagon. In saying that, it's a continual process that needs practice and constant watchfulness (reevaluation) on how our money is being spent.
To help us most, we need to apply Biblical principles and study how to budget and use money wisely.
Here's 5 Bible Verses on Money & Frugality 
Every time I have to throw out food, this is the Bible verse that comes to my mind…
The slothful man roasteth not that which he took in hunting: but the substance of a diligent man is precious. – Proverbs 12:27 KJV
Every time I have to buy something new because I didn't take care of what I had, this is the Bible verse that comes to my mind….
She looketh well to the ways of her household, and eateth not the bread of idleness. – Proverbs 31:27 KJV
Every time I wish for more stuff that I don't really need, this Bible verse helps me to remember to be content with what I already have…
But godliness with contentment is great gain. – I Timothy 6:6 KJV
Every time I start focusing too much on money, this Bible verse helps me keep the right balance and perspective on money…
For the love of money is the root of all evil: which while some coveted after, they have erred from the faith, and pierced themselves through with many sorrows.  – I Timothy 6:10 KJV
Every time I start worrying about a need, these Bible verses help me remember that God is able to provide…
But my God shall supply all your need according to his riches in glory by Christ Jesus. – I Philippians 4:19 KJV
Are not two sparrows sold for a farthing? and one of them shall not fall on the ground without your Father. – Matthew 10:29 KJV
Fear ye not therefore, ye are of more value than many sparrows. – Matthew 10:31 KJV
May God bless you and your family,
Rhonda White