"My voice shalt thou hear in the morning, O Lord; in the morning will I direct my prayer unto thee, and will look up." – Psalm 5:3 KJV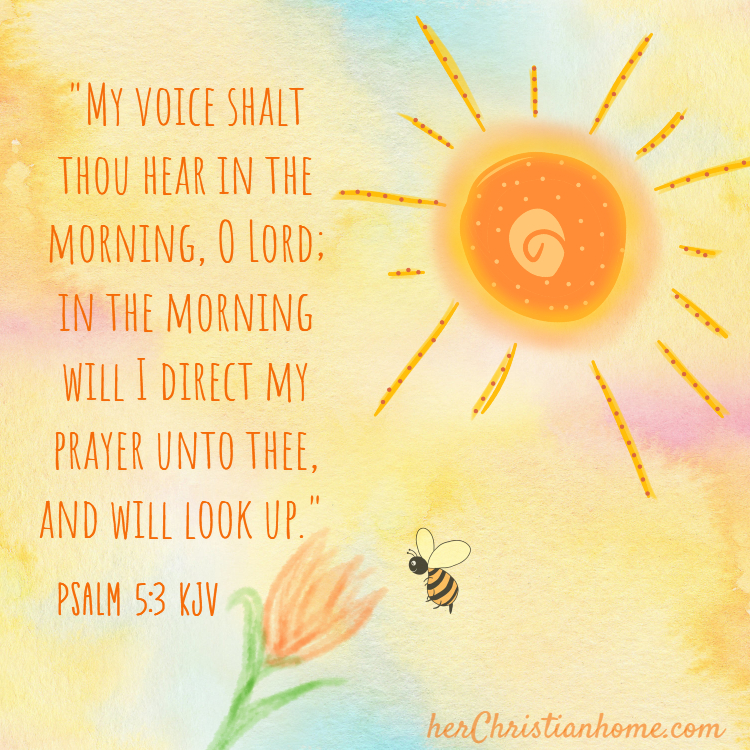 This simple Bible verse of David's psalm spoke volumes to my heart this week. There's three simple points that I would like to share with you from my perspective.
1. Prayer was a priority for David.
David prayed in the morning — before getting side-tracked with other activities of his day. He didn't neglect to say, "Good morning, Lord!" "Thank you for your goodness and your mercies." (Psalm 145:9) "Thank you for another day." (Psalm 118:24) We, too, have a wonderful privilege of greeting our Heavenly Father in the mornings! We can talk to Him even before poking our big toe out of bed!
2. David had a habit of praying daily.
David said, "My voice shalt though hear in the morning." David uses the word "shall" expressing strong intentions to speak to God in the mornings. It was a habit that he formed. It's the little spiritual habits like this that can alter and change our lives one step at a time…one day at a time.
I believe we can profit much from implementing such a committed habit of prayer in the mornings, even if we have only a few minutes to spare. Connecting with God first thing in the morning not only kickstarts our day off right — it can help us keep a close relationship with our Heavenly Father.
3. David looked up!
Keeping our eyes on God daily will keep us focused on God's power instead of the scary trials surrounding us. My dad said it well in a text the other day, "The devil wants us to fear and think of death, while our God wants us to think of life and His presence in our life." That is sure fitting for the times we are living in. (II Timothy 3:1)
My friend, God wants to hear from you every single day. Prayer changes things. And the GOD who cannot change, can change EVERYTHING!!
One of my favorite songs is "In the morning when I rise, Give me Jesus"
In the morning, when I rise
In the morning, when I rise
In the morning, when I rise
Give me Jesus…. You can have all this world
Just give me Jesus
Keep walking faithfully!
May God bless you and your family,
Rhonda White