Admit it!  You really like to hear praise after you do something for someone else.  It may not be your motive for helping, but it's nice to know they are grateful and thankful for your help.
It seems that it's in our human nature to crave praise. Because God has made us in His image (Genesis 1:27), I can imagine how very pleasing it is for God to hear our praises given to Him.
Here's 3 simple ways you can offer praises to God:
1. Share your own testimony of what God has done for you.
Therefore will I give thanks unto thee, O LORD,

among the heathen

, and sing praises unto thy name. ~ Psalms 18:49
Who can argue with one's own personal testimony? It's a great way to be a witness for God, and it can open up a discussion about the things of God. Share what God has done for you. He's so good to you and me! We could never run out of praises to give to Him.  We honor and glorify God by praising Him for the big things, as well as the little things!
2. Create a praise journal.
Don't you just love reading and hearing the praises of David in the book of Psalms?  David encouraged himself in the Lord. Psalms is like David's praise journal!  We can also write down our praises and answers to prayer. It's extremely hard to grumble when we're giving praises to God.
Our written praises and answered prayers can be an encouragement to us in times of trials and distress when we re-read what we've written in the past.
Our praise journal serves as a recorded reminder of what God has done for us.  It would also make a good item to pass down to your sons and daughters, as a part of their inheritance.
3. Sing praises to God.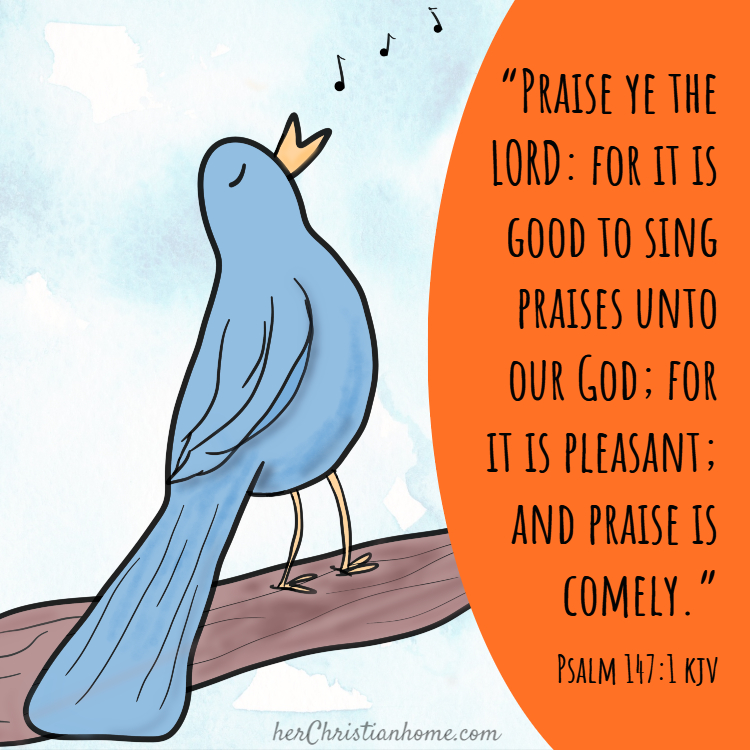 As we sing hymns at church, we may not focus well on the words we're singing.  We don't sing in church to simply hear our lovely voices (or un-lovely voices, ha! ha!) The main purpose is simply to praise our Great God!
Our old-fashioned gospel hymns focus on praising God.  We can also sing them in the morning, at home, during our devotional time!
What a wonderful opportunity to focus on singing praises directly and personally to God! Try putting MORE focus on the words while singing praises to Him, and sing MORE often!
Praise ye the LORD: for it is good to sing praises unto our God; for it is pleasant; and praise is comely. ~ Psalms 147:1
I believe singing praises affects our attitude and yields a grateful spirit.  We can sing praises to God while driving our kids to school in the mornings.  We can bellow out songs of praises in the shower.   We can wake up in the morning with songs of praise.  (It's better than your morning coffee, I guarantee!)
This week, let's focus on giving more praises to our God above.  He's worthy of our Praise!

*Updated 2/25/2020 / Originally posted June 24, 2015