As we sing Christmas songs this season, do we pay attention to the words we're singing? Do we really bring honor and glory to our Lord and Savior before the world? Do we really adore Him?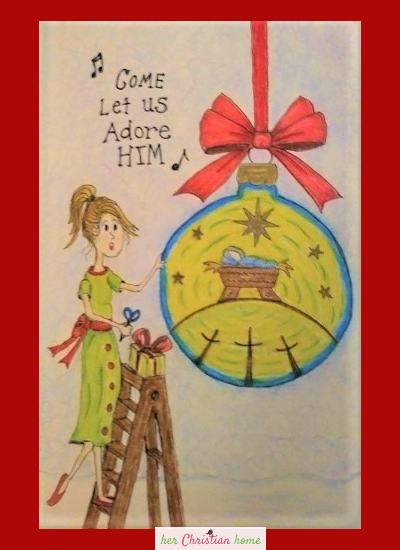 The dictionary says that "ADORE" means to love and respect someone deeply. To worship.
Christmas should be all about how much we LOVE the Lord Jesus. If we love God as we should, we will try to focus more on bringing glory to Him, not only this Christmas, but throughout the year.
The best GIFT you can give to God this Christmas season is your LOVE to Him. 
Did you realize that we benefit MORE in life when we LOVE God?
Please read the Bible verses below carefully and consider whether or not you've given God all your love today. I suspect we ALL need to work on giving God MORE of our LOVE.

And thou shalt love the LORD thy God with all thine heart, and with all thy soul, and with all thy might. — Deuteronomy 6:5 KJV

Know therefore that the LORD thy God, he is God, the faithful God, which keepeth covenant and mercy with them that love him and keep his commandments to a thousand generations; – Deuteronomy 7:9 KJV


No man can serve two masters: for either he will hate the one, and love the other; or else he will hold to the one, and despise the other. Ye cannot serve God and mammon. – Matthew 6:24 KJV


Jesus said unto him, Thou shalt love the Lord thy God with all thy heart, and with all thy soul, and with all thy mind. – Matthew 22:37 KJV

And he answering said, Thou shalt love the Lord thy God with all thy heart, and with all thy soul, and with all thy strength, and with all thy mind; and thy neighbour as thyself.  – Luke 10:27 KJV


If ye love me, keep my commandments. – John 14:15 KJV

If ye keep my commandments, ye shall abide in my love; even as I have kept my Father's commandments, and abide in his love. – John 15:10 KJV

Jesus answered and said unto him, If a man love me, he will keep my words: and my Father will love him, and we will come unto him, and make our abode with him. He that loveth me not keepeth not my sayings: and the word which ye hear is not mine, but the Father's which sent me. – John 14:23,24 KJV

And we know that all things work together for good to them that love God, to them who are the called according to his purpose. – Romans 8:28 KJV

Love not the world, neither the things that are in the world. If any man love the world, the love of the Father is not in him. – I John 2:15 KJV


But as it is written, Eye hath not seen, nor ear heard, neither have entered into the heart of man, the things which God hath prepared for them that love him. – I Corinthians 2:9 KJV


We love him, because he first loved us.  – I John 4:19  KJV


If a man say, I love God, and hateth his brother, he is a liar: for he that loveth not his brother whom he hath seen, how can he love God whom he hath not seen? – I John 4:20 KJV

By this we know that we love the children of God, when we love God, and keep his commandments. For this is the love of God, that we keep his commandments: and his commandments are not grievous. – I John 5:2,3 KJV