*Originally Posted March 30, 2016 – Updated December 4, 2018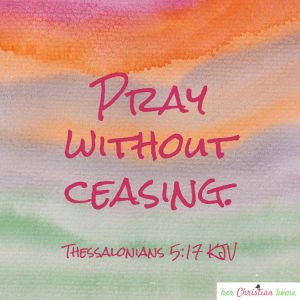 Do you know that each prayer doesn't have to be an hour long? Or even 10 minutes long?  We're to pray without ceasing. (I Thessalonians 5:17)
So how can one pray without stopping and still get all their daily tasks done?
Sometimes we have days that are so busy that it seems we can hardly catch a breath in between.  Yet, God is with us each moment.  He sees each frustrating obstacle in our path.  He knows every time we get overwhelmed.  He knows every thought… even those tempting thoughts of quitting.
That's why we need to partner with our Heavenly Father throughout our day.  A prayer can be a simple 10-second prayer.  Yesterday, I bowed my head for a short moment in the bathroom; tears came to my eyes and I confessed, "You are God!  You are God!"
God knew all that was in my heart at that moment.  Even though I didn't have time to express it all in words, I was saying, "Lord, you are God… you are in control even when things are out of my control.  Your will is better than my own.  You have the power to take care of each need and each frustrating situation."
My 10-second prayers throughout my days are my way of continually communicating with God.  It's my way of remembering that He IS God.
I'm the sheep…and I need to follow and let God lead.  Let God take care of what I can't seem to do for myself.  I'm a needy sheep.  I need leading.  I need God's Word each day for nourishment and strength.
I want to encourage you today to squeeze in talking with the Lord all throughout your day. Praise Him.  Thank Him. Trust Him.  Ask Him help on the behalf of others and for your own family.
God bless you and your family,