Today's key Bible references are from Proverbs 2:4 and 5 KJV
I've been working online for quite a few years now. Today there are tons of applications to automate processes.
One of the very first automation apps I used back in the day was called, "If This, Then That." You could create recipes for automating some of your work. One quick example was, IF you posted a blog article, THEN your blog photo and link would be automatically sent to your Facebook page.
I loved the automation process. It made life much easier and saved me a lot of time.
While reading my Bible, I have discovered lots of "if this, then that" automation processes.
Today's key Bible verses is just one example.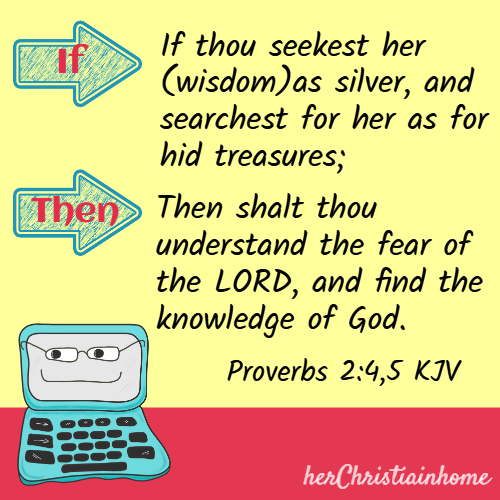 Proverbs 2:4 and 5 says,
"If thou seekest her as silver, and searchest for her as for hid treasures; Then shalt thou understand the fear of the LORD, and find the knowledge of God."
(Referring back to Proverbs 2:2, we know that these verses are speaking about wisdom.)
How diligently are you seeking wisdom today?
Can you imagine if we took these verses to heart and really applied them? If we truly sought for wisdom, like we do money and other earthly treasures, we would be supplied with great understanding and find the knowledge of God.
Wouldn't that make life so much easier and save us lots of heartaches?
I want to encourage you today to seek wisdom. Proverbs 4:7 says, "Wisdom is the principal thing: and with all thy getting get understanding."
James 1:5 tells us to ASK God for it! "If any of you lack wisdom, let him ask of God, that giveth to all men liberally, and upbraideth not; and it shall be given him."
In summing up today's devotional, there are many "if this, then thats" in the Bible. Can you name a few? Start looking for them on a daily basis while reading God's Word.
Side note: I created a couple of stickers that you can use in your digital journal. There is also a PDF printable page that you can download for your journal book or Bible, if you wish to print and cut them out. (Find those below.)
Keep walking in faith,
by Rhonda White