Have you ever considered that bad habits are just like dirty smudges on our face?
We may not think about our bad habits that often, but when our family and loved ones look at us, they're forced to peer at the smudges we're wearing.
A bad habit that we have is often quite apparent to others…and sometimes we nonchalantly wear the same old dirty smudges year after year because we don't put any effort into changing or cleaning up our act.
Are bad habits sinful?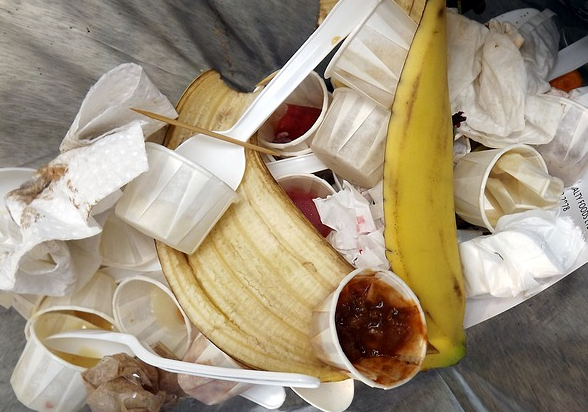 First, know this… there's NONE of us who are perfect. We ALL have our struggles. I will admit that I have my own weaknesses that I battle. There's too many times when I give into the flesh and don't get a household chore done because of my laziness.
There's times when I turn off my alarm clock and stay under my covers because my flesh doesn't want leave the warm covers and step out into the cold air.
The good news is that… God is merciful and remembers that we're human, and of a fleshly nature.
" For he knoweth our frame; he remembereth that we are dust."

Psalms 103:14 kjv
It may not be a direct sinful act of disobedience to leave dirty trash laying in the kitchen all week, but it does reflect on our character. It certainly doesn't honor the Lord in our testimony.
When our bad habits cause us to drop the ball on our responsibilities, or it causes us to hurt others around us due to our selfishness, remember what God's Word says….
"Therefore to him that knoweth to do good, and doeth it not, to him it is sin."

James 4:17 kjv
I admit… my flesh is weak when it's time to do something that I don't like to do. But, to simply say, "Oh well, that's just how I am. Who cares?" is dishonoring my Christian character. (I want people to know that Jesus makes a difference in my life!)
AND, again, my bad habits force my loved ones to constantly peer at the ugly smudges in my life. I know they will love me despite my flaws, but…
Do I care about my loved ones enough to change my bad habits?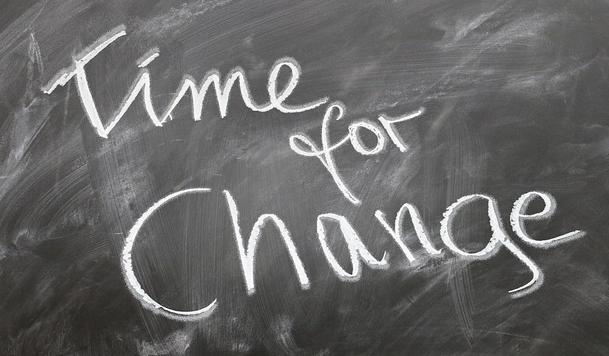 Think about it… Continuing in our bad habits means we're continuing to make bad decisions.

Everyday we have CHOICES in how we will use our time, how we will act and what we will do. We make lots of decisions…and those decisions affect us as well as others around us. Whether we live or don't live for the Lord — it will affect our family and our testimony.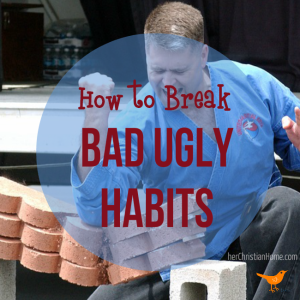 10 Ways to Break Bad, Ugly Habits…
1. Realize the consequences of your bad habits.
Bad habits come with a price. When we neglect the truth about our bad habits, we let them fester and get worse. The consequences get deeper. Pray about what habits need to be changed. The Holy Spirit will reveal that to us, particularly through reading God's Word.
2. Read and memorize more of God's Word.
God's Word has the power to change. It's like a mirror that will show us our flaws as well as show us the type of character that we should have in our life. (Psalms 119:11)
3. Don't do it alone. Strengthen the spirit.

This is simple to understand. Our flesh is weak. Ask the Holy Spirit for help. Each time we yield to the flesh, our flesh grows stronger. Each time we yield to the Holy Spirit, the spirit gets stronger.
You make a decision everyday which one you will feed the most (the flesh or the spirit). But, you definitely set yourself up for failure if you don't yield to the Holy Spirit and ask for His help.
4. Replace your bad habits with good ones.
This is a feeble example, but if I decide not to drink chocolate milk any more, then it would be wise to decide in advance what other drink that I could enjoy as a replacement.
Examples of filling in the gap… What edifying words could I use to replace negative ones that I shouldn't be using? What modest clothes might I enjoy to replace immodest ones? Which friends should I establish to replace friends that I shouldn't have? Which books should I read to replace ones that I shouldn't read? What hobby could I enjoy at home instead of shopping too much and spending too much money? What would motivate me to wash the dirty dishes instead of leaving them to sit? Could I play my favorite CD and sing along to make this a fun time to enjoy…then reward myself with a little piece of chocolate to finish off the job? 🙂
5. Don't makes excuses for yourself.
Don't say, "This is just how I am." Admit you could do better…and that you should do better. Then, set out a plan and specific goals to change your bad habits.
6. Find an accountability partner.
Accountability really goes a long way in pushing yourself to do better. An accountability partner could be your husband, another family member or a friend.
Let your accountability partner know what your goals are and what you're trying to accomplish. Let them know you will update them daily or on a certain day of the week of your progress — or ask them to confront you about your progress. Also, in times of weakness, contact them to encourage you.
7. Be honest, but also forgive yourself.
It's a daily thing. Breaking bad habits doesn't happen overnight. It's a daily yielding of ourselves to the Holy Spirit. Forget about yesterday and focus on making a difference today.
Regretting the mistakes we made yesterday will do very little in making today better. On the other hand, don't lie to yourself or hide the truth. If you mess up, ask the Heavenly Father to forgive you of your failure and help you get back up. Keep getting back up! Don't stay down! (Proverbs 24:16)
8. Remember your "why."
What is your reason for trying to change? Write it down. Review it often. First of all, your most important reason to change should be to glorify our Heavenly Father with a better testimony. Secondly, because it benefits those around us whom we love. What we do and don't do effects them. Thirdly, YOU benefit! 🙂
9. Care enough to make a commitment.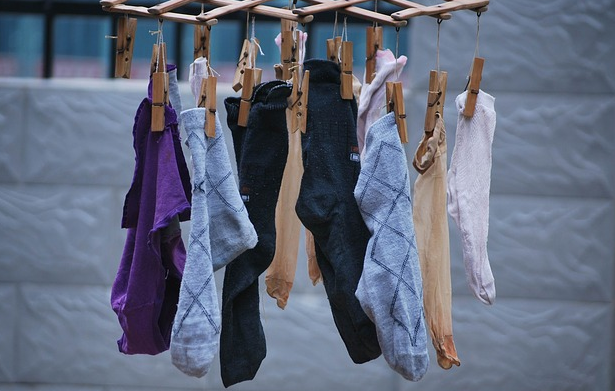 It seems that we do whatever is important enough to us. Why do we wash our old dirty clothes? Doing laundry takes work…and it's not really that fun or entertaining.
So, what makes us pursue doing it each week? We don't even get paid for it! The fact is, we care about our appearance and how we smell! Right?!?
Wrinkled, dirty, smelly clothes would make us feel and look like a bag lady. Loving ourselves enough to care for our hygiene causes us to make an extra effort to do something despite that it takes work — and offers no pay in return.
It's a SHAME when we don't care enough about our "inside" spirituality and our "bad, ugly habits" to make the same commitment to change.
10. Reward yourself.
I know God's Word speaks of the rewards we will receive in Heaven someday for being faithful. God is one who rewards. (Hebrews 11:6)
We can also reward ourselves for our own achievements and successes. It usually works to motivate us. Decide how you can reward yourself for achieving certain goals.
Tomorrow will be no better if we make no changes today.
Don't forget to evaluate weekly or monthly on how you are doing. It takes work to break bad, ugly habits, but it can be done.
Remember this verse from God's Word…
"This I say then, Walk in the Spirit, and ye shall not fulfil the lust of the flesh."

Galatians 5:16 kjv

*Updated October 30, 2019 / *Originally posted October 28, 2015