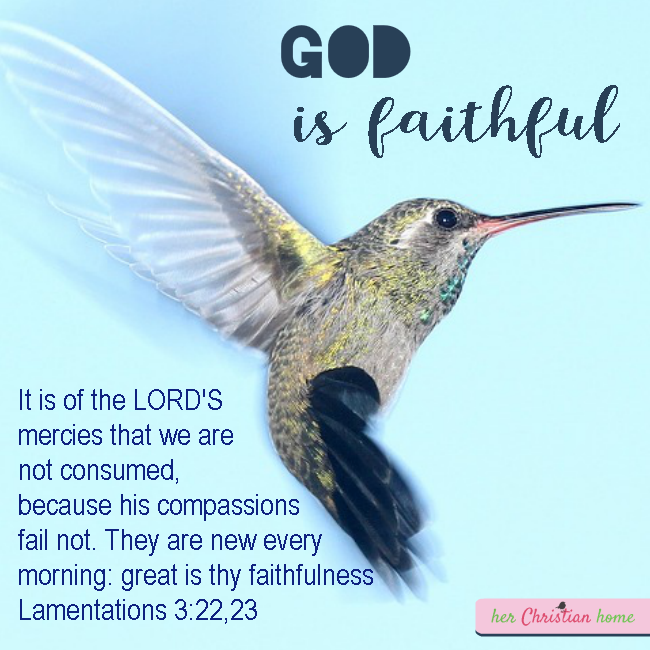 I fail. And to be more honest, I fail a LOT.
There are times that I may say the wrong things or think the wrong things. There are times when I may not read my Bible or pray like I should.  There are times when I make mistakes or perhaps fall into the temptation of sin.
Today, I'm so thankful and grateful for the Lord's mercy and compassion which does NOT FAIL.
Each day (TODAY), is a new beginning… God's mercies are new for you and I today.
I know it's true because God's Word says "his compassions fail not."
It is of the LORD'S mercies that we are not consumed, because his compassions fail not. They are new every morning: great is thy faithfulness. Lamentations 3:22,23
If you failed YESTERDAY, it's simple to restore fellowship with God and get back on the right path by sincerely asking for His forgiveness.
He's waiting for you…
>> He's READY to forgive.
For thou, Lord, art good, and ready to forgive; and plenteous in mercy unto all them that call upon thee. – Psalms 86:5
(You know what it means by being "READY" don't you?  Things are all set to go!  For example, when you have your travel bags all packed and you're ready to go…. you're prepared, waiting to take off and go!)
>> He's FAITHFUL to forgive.
If we confess our sins, he is faithful and just to forgive us our sins, and to cleanse us from all unrighteousness.

– I John 1:9
Today is a new day…a fresh, new start.  What will you do with your day?  Let's live our lives to give glory and honor to God!
God bless you and your family,
Rhonda White