"And the vessel that he made of clay was marred in the hand of the potter; so he made it again another vessel, as seemed good to the potter to make it."
~ Jeremiah 18:4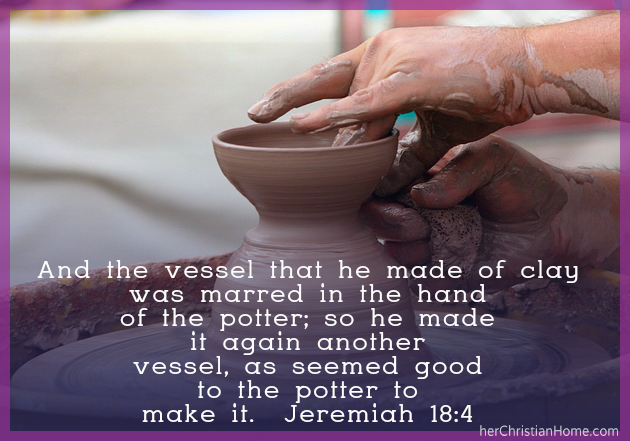 Today, I want to share with you a cute little poem (down below) about a broken teapot.  My pastor's wife (Mrs. Kathy McCullough) wrote this poem, and last year she placed it on pretty bookmarks to give to the ladies at our church.
I keep mine at my bedside since that's where I love to read.  I love teacups and teapots as well. There's soooooo many designs and colors.  So many unique ones; they never cease to amaze me with their elegance! Each one is a wonderful expression of artwork by its designer.
The story behind the poem…
Mrs. McCullough told me that the poem was inspired by an event that happened in her own life. She had bought a teapot that sported a very beautiful lid. The pretty lid was one of the reasons she was drawn so much to this teapot.
Sometime afterwards, her daughter accidentally broke the lid. She was saddened by what had happened, but one day she decided to re-purpose the teapot by adding a plant into it.
She set the re-purposed teapot into her garden area to enjoy.  Then, one day a friend came for a cordial visit — she eyed the little potted teapot.  She then boasted that it was her "favorite" in the garden!
The similarities are true and dear to this life…
God has created each one of us… each so unique. And we, too, often have events in our lives that break our hearts.
Sometimes our lives get tarnished with mistakes we've made.  Perhaps our dreams get crushed by other circumstances.  God loves us still.
Our loving Heavenly Father looks down and sees the value of each individual…YOU and I.
He knows how to put the broken pieces together again, if we'll but trust Him. The deep hurts and aches — He's able to heal!
Then, our life is able to take on a brand new purpose. Our past hurts and brokenness make us unique. 
And God's not finished with us!  He's still able to use us. We stand out beautifully in our own way because God always does a marvelous handiwork.  
Presenting the poem…

The Broken Teapot
Oh, little teapot, that's short and stout–
I see your handle, I see your spout.
But, tell me, where's your beautiful top
For which original purpose, you, I bought?
So exquisite, beautifully designed–
I saw such purpose, I made you mine
To grace some table or window sill
Or a lonely space–a need you'd fill.
"Oh." replied the little teapot kind,
Who'd been wrapped up in a worldly find.
"I fell into hands not yours and crashed;
The lovely lid now broken is trashed."
Saddened, I looked at the teapot I bought;
New purpose I planned, carefully I sought
To use this teapot still so embossed.
Though broken and changed, it should not be tossed.
A purpose, a plan–it won't, it can't?
Well…with some soil and with a plant
And with this broken teapot I fought
To make it a lovely flower pot.
Into my garden, lovely to share,
I placed this flower combed with care.
There she grew boasting a new beauty,
This flower pot that filled a new duty.
And one day when a friend came by,
Upon this "once-teapot" landed her eye.
With new flowers that served as its lid,
The broken pieces now had been hid.
"Wow, that's my favorite!" so she said,
"That pretty pot in your flower bed."
Yes, once broken a new life her lot,
My little flowerpot–once a teapot!
-Kathy McCullough
*Updated 5/22/19  / Originally posted June 16, 2013