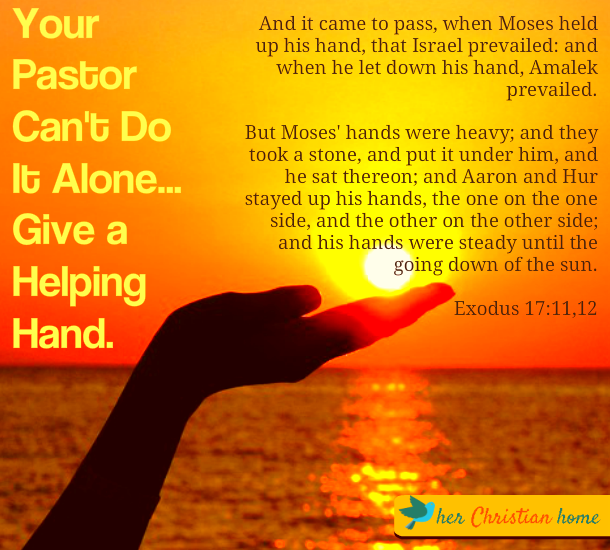 And it came to pass, when Moses held up his hand, that Israel prevailed: and when he let down his hand, Amalek prevailed.

 But Moses' hands were heavy; and they took a stone, and put it under him, and he sat thereon; and Aaron and Hur stayed up his hands, the one on the one side, and the other on the other side; and his hands were steady until the going down of the sun.

Exodus 17:11,12
Last week, while reading Exodus 17:11 &12, I wondered to myself about WHY God allowed Israel's enemy to prevail when Moses put His hands down.  After all, the victory of the battle had nothing to do with Moses' own power. He was only human, just as we are human.  Even when Moses' arms grew weary of lifting up his hands, God could have kept Israel winning the battle.  God was still in control. Don't you agree?
Even when we grow weary during our own trials, God is still in control of the battle. Just maybe we're trying to do it all "alone."  Maybe the point is we can't expect to fight alone and win… We need to stop trying to figure it all out and lean on God. We need our friends and church family to lift us up in prayer. Speak up and ask for their prayers!
With the help of Aaron and Hur to hold up Moses hands, the battle lingered on until sun down and the victory was won.  So WHY do we have this little story recorded in God's Word?  I'm no theologian, but it seems to me that our spiritual leader, particularly I'm thinking about our pastor, cannot fight the battle alone.
Our pastor needs our helping hand in areas of service at church and also lifting him up in prayer. He needs our full support. Let's be more than pew warmers… let's use our hands in serving the Lord.  The battle gets so weary…the work load gets so heavy.  Let's stay by our Pastor's side.  He doesn't need our criticism; he needs our encouragement, our prayers, our helping service.
Let's also lift up our fellow sisters and brothers in Christ…they, too, are weary in battle and need our prayers.
God bless you and your family,
Rhonda White