Today, I thought I'd share some simple, but good Bible verses about HOPE that you can write in your journal or memorize…
God wanted us to have HOPE, and the word is mentioned at least 133 times in the KJV Bible. Furthermore, there are hundreds of additional Bible verses that give significant meaning of adding HOPE to our Christian life and walk with the Lord.
First, let's look at the definition of HOPE….
HOPE
noun
a feeling of expectation and desire for a certain thing to happen.
Similar words: aspiration, desire, wish, expectation, ambition, aim, plan, longing, yearning
a feeling of trust.
verb
want something to happen or be the case.
What would life be without HOPE?
The lack of HOPE makes one's spirit downcast. To feel HOPELESS causes one to give up… hence, they lack the fortitude to fight.
Proverbs 13:12 kjv says, "Hope deferred maketh the heart sick: but when the desire cometh, it is a tree of life."
We know from stories and experiences of those who have held on to HOPE have recovered from serious health issues and difficult life battles with greater success.
One of my favorite Bible stories is that of JOSEPH. I have much admiration for his character. We don't hear of him griping or complaining as he was sold into slavery, nor as be sat in prison.
How do we know that he maintained a good attitude? Because through each of his difficult situations, he was promoted in his position. You don't get promoted upward while griping and throwing fits about your predicament.
I believe Joseph mastered holding on to HOPE.
With HOPE and FAITH, Joseph believed that God would give him an expected end, and that he would fulfill the purpose for which God created him.
"For I know the thoughts that I think toward you, saith the LORD, thoughts of peace, and not of evil, to give you an expected end." – Jeremiah 29:11 kjv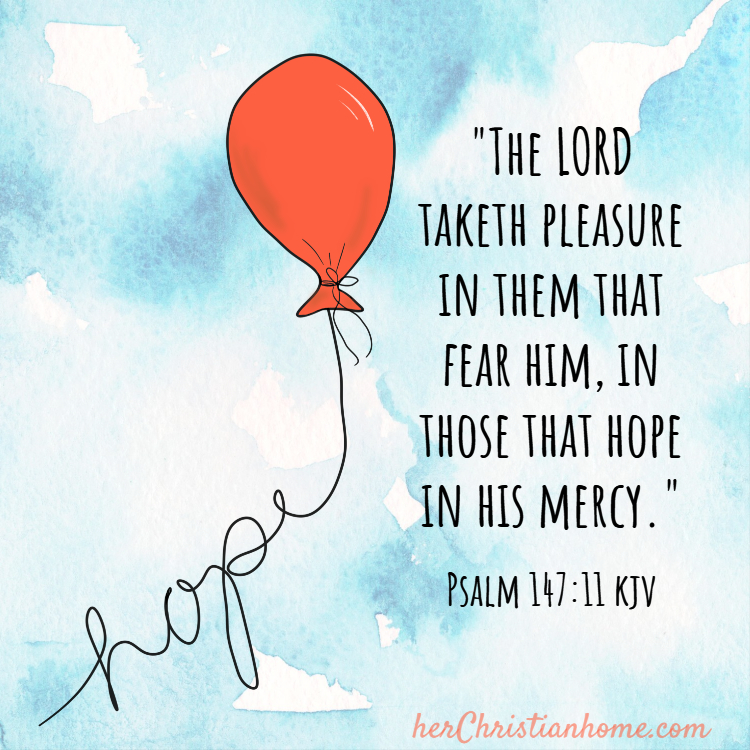 Here's 15 Bible Verse About HOPE…
Hope gives us rest…
"Therefore my heart is glad, and my glory rejoiceth: my flesh also shall rest in hope." – Psalm 16:9 kjv
2. Hope gives us courage and strength…
"Be of good courage, and he shall strengthen your heart, all ye that hope in the LORD." – Psalm 31:24 kjv
3. We have hope through God's mercy…
"Behold, the eye of the LORD is upon them that fear him, upon them that hope in his mercy;" – Psalm 33:18 kjv
4. While we are waiting, we can hope…
"And now, Lord, what wait I for? my hope is in thee." – Psalm 39:7 kjv
5. We are to continually hang on to hope and praise God more…
"But I will hope continually, and will yet praise thee more and more." – Psalm 71:14 kjv
6. We are to set our hope in God, and not to forget what He's done for us…
"That they might set their hope in God, and not forget the works of God, but keep his commandments:" – Psalm 78:7 kjv
7. Our hope is in God's Word…
"Thou art my hiding place and my shield: I hope in thy word." – Psalm 119:114 kjv
8. Hope brings happiness…
"Happy is he that hath the God of Jacob for his help, whose hope is in the LORD his God:" – Psalm 146:5 kjv
9. The Lord is pleased with those who hope in His mercy…
"The LORD taketh pleasure in them that fear him, in those that hope in his mercy." – Psalm 147:11 kjv
10. We are blessed for trusting and hoping in the Lord…
"Blessed is the man that trusteth in the LORD, and whose hope the LORD is." – Jeremiah 17:7 kjv
11. We can rejoice through hope…
"By whom also we have access by faith into this grace wherein we stand, and rejoice in hope of the glory of God." – Romans 5:2 kjv
12. Faith and hope will allow us to wait with patience…
"But if we hope for that we see not, then do we with patience wait for it." – Romans 8:25 kjv
13. Hope fills us with joy and peace…
"Now the God of hope fill you with all joy and peace in believing, that ye may abound in hope, through the power of the Holy Ghost." – Romans 15:13 kjv
14. Look up! There is your hope…
"Looking for that blessed hope, and the glorious appearing of the great God and our Saviour Jesus Christ;" – Titus 2:13 kjv
15. "Faith is the confidence we have in possessing the things we hope for because of the promises of God." (*Quote by Martin G. Collins, Forerunner, "Bible Study," August 1998)
"Now faith is the substance of things hoped for, the evidence of things not seen." – Hebrews 11:1 kjv