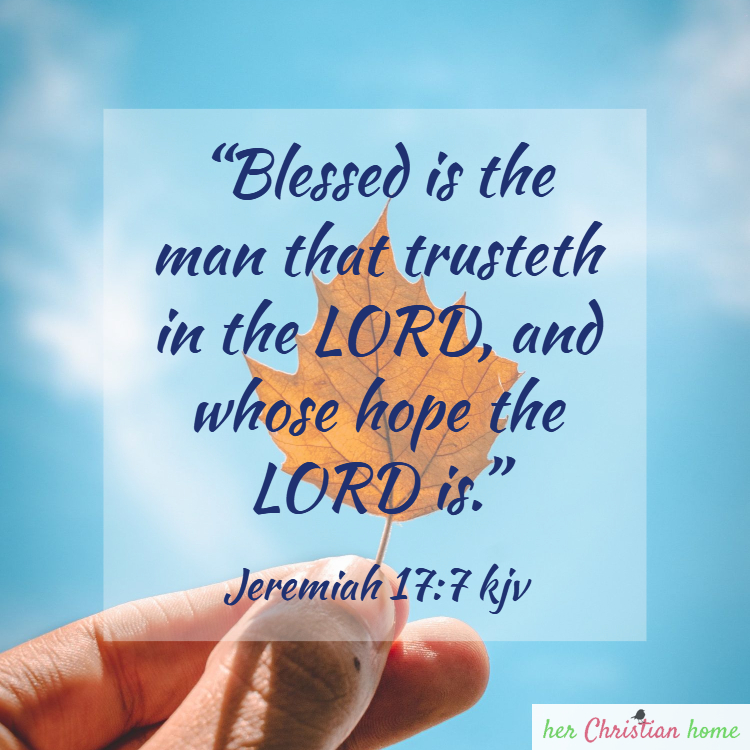 Today's Bible Verse to write in your journal…
"Blessed is the man that trusteth in the LORD, and whose hope the LORD is." – Jeremiah 17:7 kjv
5 Ways You Can Trust God Starting Right Now…
1. You Can Trust in God's Gracious Mercy.
"But I have trusted in thy mercy; my heart shall rejoice in thy salvation."

Psalm 13:5 kjv
We certainly don't receive all that we deserve for our sins. [He hath not dealt with us after our sins; nor rewarded us according to our iniquities. – Psalm 103:10 kjv]
Sometimes we let fear take over instead of trusting God because we're afraid our sins are going to shadow us from God's love and goodness.
It is true that we can miss out on God's blessings and risk facing terrible consequences for our sin, especially if we continue living in sin. Remember, God knows our heart when we truly repent.
Even when we do have to face some consequences of our past sins, we can know that God is still good. Because of His mercies, we do not receive ALL that we truly deserve.
Notice that David rejoices in God's salvation. I believe taking time to rejoice and praise God (allowing us to remember God's goodness) builds our trust in Him even more.
*Question: What are some ways that God has been merciful in your life?
2. You can trust God that your time here on earth is in His hands.
But I trusted in thee, O LORD: I said, Thou art my God. My times are in thy hand: deliver me from the hand of mine enemies, and from them that persecute me.

Psalm 31:14,15 kjv
We live in scary times where there is much sickness and violence all around us. David, too, experienced the conflict of dangerous enemies. David exclaims, "Thou art my God."
Let God be YOUR God as well. Trust your life in His hands today!
As a Christian, if you're truly putting forth your best effort to live by God's Biblical principles, you will have His protection on your life. No one can take your life without God's permission.
*Question: Can you remember a time when God protected you from a particular situation?
3. You can trust God when you are afraid.
"What time I am afraid, I will trust in thee. In God I will praise his word, in God I have put my trust; I will not fear what flesh can do unto me."

Psalm 56:3,4 kjv
As I said previously, we do live in fearsome times. One way you can build your faith right now — and DAILY— is to read God's Word. Also, claim His promises because He CANNOT lie!
[So then faith cometh by hearing, and hearing by the word of God. – Romans 10:17] [In hope of eternal life, which God, that cannot lie, promised before the world began; -Titus 1:2]
*Question: What are some fears that you need to hand over to God?
4. You can trust God over your own understanding (or lack of understanding).
Trust in the LORD with all thine heart; and lean not unto thine own understanding.

Proverbs 3:5 kjv
This is one of my favorite Bible verses that I've had memorized for years. The trouble for most of us is that we just can't understand what God is doing…
And what we don't understand, we often begin to FEAR.
Know this that fear fights faith. But, if you keep building your faith, as I talked about previously, then your faith will begin to successfully fight fear.
WHO we are trusting in is a real factor here. When we realize how BIG our God is, then our problems begin to look smaller.
One day we will be able to look back and see what God was doing and how He was working in our life. Our job right now is to simply TRUST Him…and NOT our own understanding.
*Question: What is the (verb) definition of TRUST?
Help >> https://www.merriam-webster.com/dictionary/trust
5. You can trust God in everything.
Be careful for nothing; but in every thing by prayer and supplication with thanksgiving let your requests be made known unto God. And the peace of God, which passeth all understanding, shall keep your hearts and minds through Christ Jesus.

Philippians 4:6,7 kjv
God doesn't want us to be anxious about anything. Isn't that wonderful!?!
The action we need to take here is that we need to pray about everything! But before you go asking, don't forget to give thanks to our Heavenly Father for the things He's already done for you.
Did you take notice that peace comes from God when we learn to rely upon Him? Our hearts and minds can become settled through trusting Jesus.
*Question: What are three things you can praise God for today?
Don't forget to pray and talk to your Heavenly Father today. Pour out your heart to GOD. Ask Him for help as you learn to trust Him more.
To sum up today's devotional, remember that God's Word says in Proverbs 16:20b, "whoso trusteth in the Lord, HAPPY is he." Go be happy today!
May God bless you and your family,
Rhonda White
Share your own comment below answering from any of the above questions.