SIDE NOTE: I am sort of "testing the waters" a bit right now… I've created today's devotional in a format that can also work for those who enjoy Bible journaling, as well as for those who are in the ministry and looking for free devotional outlines. I'm also aiming to implement MORE Bible verses…since it's God's Word that changes our hearts, and NOT what I have to say!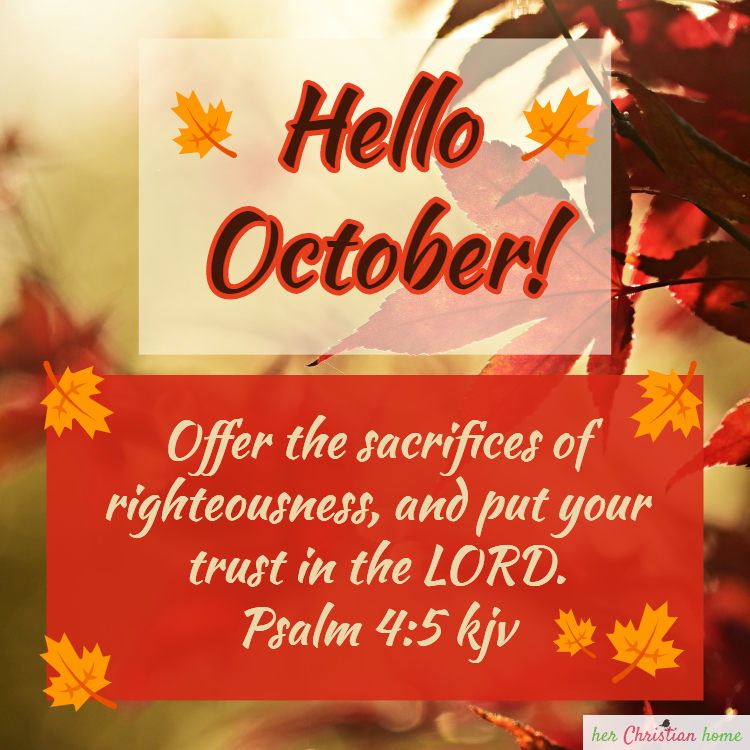 Today's Bible Verse to Write in Your Journal….
"Offer the sacrifices of righteousness, and put your trust in the LORD." Psalm 4:5 kjv
Question: What are some ways you can sacrificially give of yourself to God today?
1. Let Loose of Your Life and Yield it to God
"For whosoever will save his life shall lose it; but whosoever shall lose his life for my sake and the gospel's, the same shall save it."

Mark 8:35 kjv
Sometimes we want to hold back by saying to God, "I'm willing to do this– and this — and even this, but NOT this!
Question: Is there something you're clinging to that God is urging you to yield to Him?
2. Strive for Holiness
"I beseech you therefore, brethren, by the mercies of God, that ye present your bodies a living sacrifice, holy, acceptable unto God, which is your reasonable service."

Romans 12:1 kjv
We certainly aren't going to be perfect like Jesus was, but shouldn't we be constantly putting forth effort to be more Christ-like?
Question: What do you need to ELIMINATE from your life to be more Christ-like?
Question: What do you need to ADD to your life to be more Christ-like?
Making a commitment to put Christ first means giving Him first priority in your life. Reading your Bible daily, praying daily and attending church when the doors are open are all opportunities for you to build a closer relationship with our Heavenly Father.
3. Offer Praise to God Continually
"By him therefore let us offer the sacrifice of praise to God continually, that is, the fruit of our lips giving thanks to his name."

Hebrews 13:15 kjv
Don't we, too, like to receive praise? Our Heavenly Father enjoys hearing our praises! But know this… it's also a testimony and witness among the world around us when we share our praise for the things God has done in our life.
"Therefore will I give thanks unto thee, O LORD, among the heathen, and sing praises unto thy name."

Psalm 18:49 kjv
Question: What are some things you can praise God for today? List several!
4. Do Good Things.
"But to do good and to communicate forget not: for with such sacrifices God is well pleased."

Hebrews 13:16 kjv
Doing good certainly doesn't get us any closer to heaven. God's Word says…
"For by grace are ye saved through faith; and that not of yourselves: it is the gift of God: Not of works, lest any man should boast."

Ephesians 2:8,9
But faith and works pair well together perfectly. Because we are Christians, we want to exemplify our Christianity through our good works for the cause of Christ. God's Word says…
"Even so faith, if it hath not works, is dead, being alone."

James 2:17 kjv
"Hereby perceive we the love of God, because he laid down his life for us: and we ought to lay down our lives for the brethren."

I John 3:16 kjv
Because we love God we will want to serve Him. So, let's prove our love by looking for opportunities to do good, serve God and mature in our Christian faith.
Question: What are some ways that you can be an example of Christ to others?
5. Be Obedient to God
"And Samuel said, Hath the LORD as great delight in burnt offerings and sacrifices, as in obeying the voice of the LORD? Behold, to obey is better than sacrifice, and to hearken than the fat of rams."

I Samuel 15:22 kjv
Perhaps, you and I look at our lives and think we're pretty good Christians because we read our Bible, and pray, and go to church, and give our tithes from our paychecks, and pass out gospel tracts.
Yet, in so many ways you and I might be missing out on God's full blessings big time because we lack OBEDIENCE to God in other areas of our life.
Perhaps, we have some secret sins that we have refused to eliminate from our life. We need to OBEY God's Word in changing those areas.
God has given us victory over sin. Don't quit working on those areas. To avoid sin and further temptations, God's Word has given us great advice in Proverbs, the book of wisdom….
"Avoid it, pass not by it, turn from it, and pass away."

Proverbs 4:15 kjv
Like I tell my Sunday School Class as an example, if I'm trying to avoid eating chocolate cake, I shouldn't pass by the bakery to even look at it. If I happen to see a chocolate cake, I need to quickly turn away and get away from it! I shouldn't put that cake in my shopping cart. I definitely shouldn't take that cake home!
Question: What areas in your life can you improve on in your obedience to God?
I hope today's devotional has been a blessing to you in some way; please leave a comment below to share your own thoughts.
May God bless you and your family,
Rhonda White