At 3 am on Monday morning (well, more specifically, it was at 2:58 am ha! ha!) one of my favorite Bible verses was brought to my thoughts.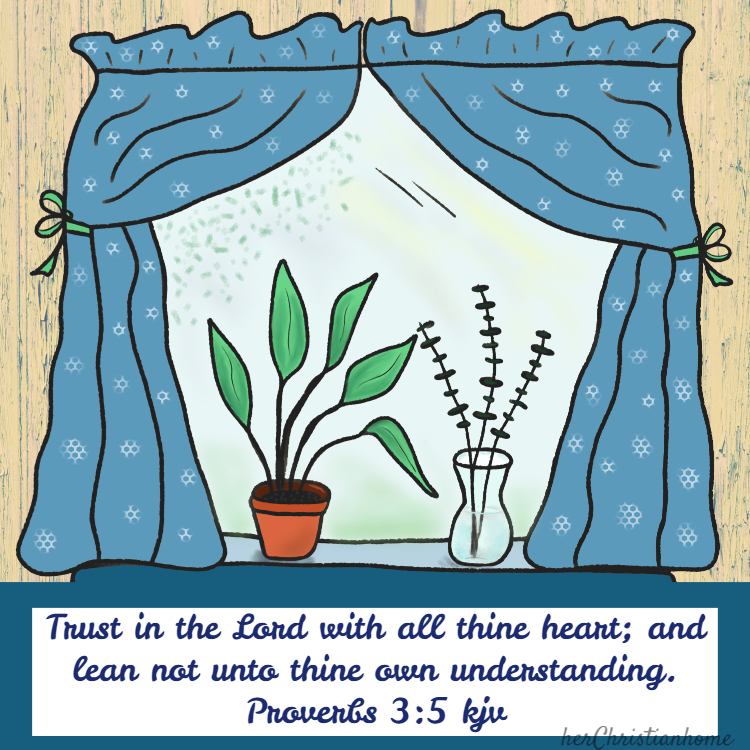 "Trust in the LORD with all thine heart; and lean not unto thine own understanding." – Proverbs 3:5 kjv
I began to ponder on the word "IN."
During this time of uncertainty with the quarantine, "what" we are trusting in is not nearly as important as "Who" we are trusting in.
We CANNOT trust in our money, in our health, in our government, in our possessions, in our family, in our finances, in our talents, nor any other thing on the face of this earth.
We CAN; however, trust IN:
God's goodness
God's mercy
God's provision
God's protection
God's promises
God's Word
and so much more!
The next word I pondered, from Proverbs 3:5, was the word "ALL."
We often trust in God with "some" areas of our life, while clinging to doubt and worry in other areas of our life.
You know what? God can handle it ALL! You and I both know this, but how often we need to remind ourselves of this very fact! So, let's jump in with ALL our heart and just trust God with it ALL!
Today, (and every day) let me encourage you to choose "instant peace" among the chaos by trusting in the LORD with it ALL!
Can you write that down in your journal? >> Today, I CHOOSE INSTANT PEACE from GOD! He CAN handle it ALL!
A godly lady, Marlene Evans, once said, "Don't borrow worry from tomorrow. God only gives you grace for today."
Let's focus on TODAY! Let's take life ONE day at a time, ONE hour at a time, ONE step at a time.
There are indeed going to be some trials along the way, but trusting GOD makes a world of difference in how we handle them.
Missionary wife, Jane Coley, who lost her precious daughter when she died from the flu, said,"Only WITH GOD can gratitude and grief coexist… praise and problems… burdens and blessings."
You and I will not be able to understand "WHY" grievous things happen. Proverbs 3:5 encourages us not to lean on our own understanding. God sees the complete picture that we cannot see while our life is in construction. Trust God! With ALL your heart trust Him!
WITH GOD it is possible to face today with gratitude, praise and see the blessings, despite whatever may be the circumstances.
*Journaling prompts:
Joural one throught each about your experience with God's goodness, God's mercy, God's provision, God's protection and God's promises.