During this time of dealing with being cooped up inside due to the quarantine, I think WORDS have become more essential than ever…
They have become our main source of connecting with each other during a time where we may not be able to physically gather together in groups and social activities.
Our very WORDS can be a fountain of encouragement to those who are sick, depressed, discouraged and lonely.
Here's FIVE Bible verses on using our WORDS well…
"Pleasant words are as an honeycomb, sweet to the soul, and health to the bones." – Proverbs 16:24 kjv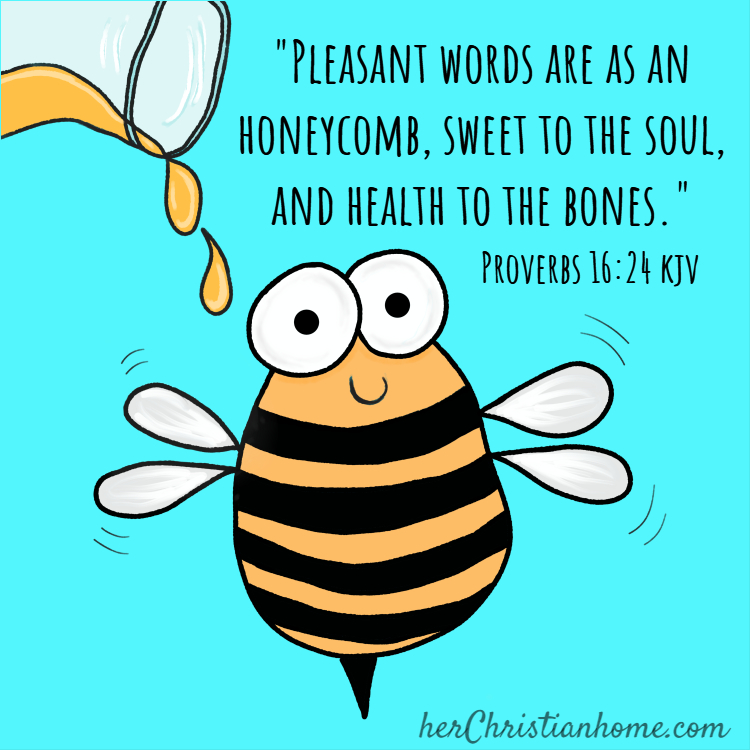 Think about what you can do to encourage someone else each day with your WORDS. You have an opportunity to make their life a little bit sweeter. Not only that, it's also healthy for the receiver and doesn't cost you a single penny!
"Heaviness in the heart of man maketh it stoop: but a good word maketh it glad." – Proverbs 12:25 kjv
So many people are feeling overwhelmed and burdened with loss of jobs and limited resources on basic needs. Perhaps you and I have no means to help them financially, but a WORD of kindness can uplift their spirits and encourage them to keep hanging in there.
"A word fitly spoken is like apples of gold in pictures of silver." – Proverbs 25:11 kjv
"A word fitly spoken" refers to "at the proper time." Pray about God's leading for who may need encouragement right now.
Sometimes we get overly occupied in our own world, and we miss that "perfect" timing when someone really needed our encouragement. I know I've neglected this so many times myself. And right now, we are currently being forced to slow down. Will you and I make changes and make more time for others with this opportunity?
"Let the words of my mouth, and the meditation of my heart, be acceptable in thy sight, O LORD, my strength, and my redeemer." – Psalm 19:14 kjv
Our WORDS should always aim to please God first. Continually walking in the Spirit can help us have the "right" WORDS that glorify God and point others to Christ. Other people will be able to see Christ's love through us and through our WORDS.
"The words of a wise man's mouth are gracious; but the lips of a fool will swallow up himself." – Ecclesiastes 10:12 kjv
May I encourage you today to ask God for more wisdom, so that you can speak gracious WORDS. The dictionary defines "gracious" as "courteous, kind, and pleasant."
The Bible says that a wise person uses these kinds of WORDS (courteous, kind and pleasant). Are those your WORDS? The more wisdom we gain from God, the more our WORDS should reflect from the wisdom we've gained.
May God bless you and your family,
Rhonda