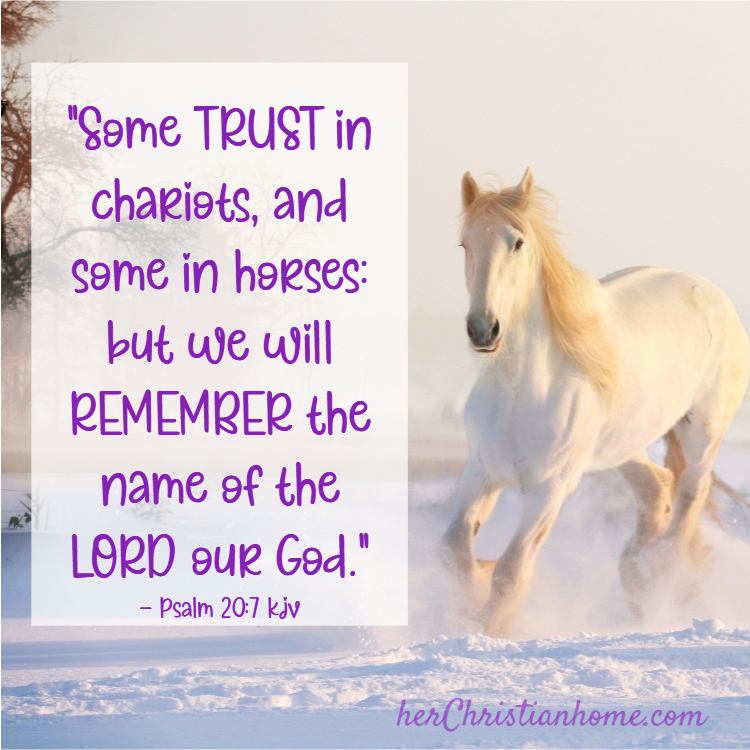 What are you depending upon to get you through life's journey?
Is it your job or income?
Is it your personality or particular character?
Is it your knowledge or IQ?
Is it your ability to multi-task?
Is it your talent in a certain area?
Is it a strong family member you lean on?
We all tend to rely on various things as we tread through life. Our human nature wants to cling to the various strengths and strong points to plunge through the troublesome bumps in the road.
But it's often when we're finally left desperately treading water to stay afloat, with NO OTHER source to lean upon, that we finally realize GOD is the ONE we need to put our WHOLE dependency upon. GOD is the ONLY ONE we can rely upon.
The words "relied on the Lord God" are only used twice in the Bible, and both phrases are in 2 Chronicles.
These two Bible verses show the results of two opposing sides and outcomes of relying and not relying on the Lord God…
> Relying on the Lord God resulted in triumph.
"Thus the children of Israel were brought under at that time, and the children of Judah prevailed, because they relied upon the LORD God of their fathers."

2 Chronicles 13:18 kjv
> Relying on man and NOT on the Lord God resulted in loss of triumph.
"And at that time Hanani the seer came to Asa king of Judah, and said unto him, Because thou hast relied on the king of Syria, and not relied on the LORD thy God, therefore is the host of the king of Syria escaped out of thine hand."

2 Chronicles 16:7 kjv
Today, I encourage you to solely rely on the LORD GOD… for helping you walk through your own personal problems, AND also in facing the chaos of our surroundings in this day and age.
With all the turmoil in the world, we are in reality in a spiritual battle against the Darkness of this world, Satan, himself.
We CANNOT look to government leaders or any other powerful factors to solve this world's problem to bring peace. We already know that Jesus Christ is the author of PEACE, and our world is rejecting Him.
As Christians, we must work harder than ever be a light to the world. We must keep relying on the LORD GOD.
We must NOT leave our posts as soldiers of Christ. We must NOT lie down in defeat.
The battle is the Lord's! The battle IS THE LORD'S!!!
We are on the WINNING SIDE (check out the book of Revelation), even though it is indeed scary and disheartening times we are now living in.
The song, "Stand Up, Stand Up for Jesus!" is what we need to keep singing and shouting.
My other favorite little song is…
"My GOD is so BIG
So STRONG and so MIGHTY
There's NOTHING my GOD cannot do
for YOU!"
May we collectively hold hands as Christians, and keep encouraging and praying for each other during these unsettling days.
RELY on God's unchanging promises!
Grow your FAITH daily in God's Word!
Keep your feet firmly planted in GOD's WILL.
Each day take one more step of FAITH.
Do NOT quit! Do NOT quit!
Here's FIVE BIBLE verses on TRUSTING in the LORD that you can WRITE in your JOURNAL this week:
"Some trust in chariots, and some in horses: but we will remember the name of the LORD our God."

Psalm 20:7 kjv
"Many sorrows shall be to the wicked: but he that trusteth in the LORD, mercy shall compass him about."

Psalm 32:10 kjv
"O taste and see that the LORD is good: blessed is the man that trusteth in him."

Psalm 34:8 kjv
"How excellent is thy lovingkindness, O God! therefore the children of men put their trust under the shadow of thy wings."

Psalm 36:7 kjv
"It is better to trust in the LORD than to put confidence in man."

Psalm 118:8 kjv
May God bless you and your family,
Rhonda White