Each one of us can think back to a time when somebody has wronged us. Mistreatment, unfairness, the violation of honesty, respect, consideration, etc. can cause agony, hurt and frustration in our lives.
Jacob could easily identify with our frustration of being mistreated. He had been continually wronged by his father-in-law, Laban.
Jacob discussed this issue with Rachel and Leah, "And ye know that with all my power I have served your father. And your father hath deceived me, and changed my wages ten times; but God suffered him not to hurt me." – Genesis 31:6,7 kjv
Then, we see that God revealed something special and personal to Jacob, "For I have seen all that Laban doeth unto thee." – Genesis 31:12b
From another chapter of Genesis, we read that Sarah dealt harshly with her handmaid, Hagar. ("And when Sarai dealt hardly with her, she fled from her face." – Genesis 16:6b)
Hagar then experiences God's love and mercy. She says, "Thou God seest me." Genesis 16:13a
We can gain some wonderful spiritual insight from both stories…
1. God sees you! God sees our troubles, our hardships and our mistreatment. And He is merciful, even though we are indeed sinners.
In Jacob's case, we can remember back to when he deceived his brother, Esau. And for Hagar, after conceiving Abraham's child, she seems to have despised her mistress, Sarah. (Genesis 16:4 kjv)
I'm so thankful for God's mercy and goodness, and am very grateful He doesn't give me all the punishment I deserve.
Psalms 103:10 says, "He hath not dealt with us after our sins; nor rewarded us according to our iniquities."
The best takeaway from Genesis 31:12b (Jacob) and Genesis 16:13a (Hagar) is that God saw their trouble. And you can be assured that God sees yours and mine!
2. God blesses in times of affliction
If we wait patiently for the Lord, we will see His blessings unfold.
"And the angel of the LORD said unto her (Hagar), Behold, thou art with child, and shalt bear a son, and shalt call his name Ishmael; because the LORD hath heard thy affliction." – Genesis 16:11 kjv
Did you catch that? God is, in fact, blessing Hagar with a son "because" the Lord heard her affliction.
We can also read of the many blessings of Jacob, despite his past flaws.
3. You and I need God's guidance. Let God direct our paths!
Sometimes, it's time to move on; and other times, it time to stick and stay.
For Jacob, it was time to move on. "And the LORD said unto Jacob, Return unto the land of thy fathers, and to thy kindred; and I will be with thee." – Genesis 31:3 kjv
For Hagar, it was time to stay. "And the angel of the LORD said unto her, Return to thy mistress, and submit thyself under her hands." – Genesis 16:9 kjv
Proverbs 3:6 says, "In all thy ways acknowledge him, and he shall direct thy paths."
4. Avoid bitterness from festering
If we're not careful, we can find ourselves resenting the person who treated us unjustly. We can let anger and frustration mount up inside until it creates bitterness.
When you hold on to grudges, you lose your joy and peace.
You're the one who will suffer the most! The consequences of bitterness is worst than the injustice that was done.
a. Pray for the one who has done you wrong.
Oh, how it changes our heart's attitude when we start praying for someone!
"Bless them that curse you, and pray for them which despitefully use you." Luke 6:28 kjv
b. Replace your bitterness with kindness
"But I say unto you which hear, Love your enemies, do good to them which hate you," – Luke 6:27 kjv
"Therefore if thine enemy hunger, feed him; if he thirst, give him drink: for in so doing thou shalt heap coals of fire on his head." – Romans 12:20 kjv
"And be ye kind one to another, tenderhearted, forgiving one another, even as God for Christ's sake hath forgiven you." – Ephesians 4:32 kjv
c. Be Christ-like and forgive
With God's help, we can forgive and let go. I understand we will not forget the past, and forgiving may be a continual process for a very long while, but with God's help we can avoid bitterness from setting into our heart and choose to keep our eyes and focus on God.
"Forbearing one another, and forgiving one another, if any man have a quarrel against any: even as Christ forgave you, so also do ye." – Colossians 3:13 kjv
5. Keep Your Eyes on God, not Man
I have written in my journal, "You'll never do much for GOD if you're looking at people."
People will always fail us. But God NEVER will fail us!
David said in Psalm 25:15, "Mine eyes are ever toward the LORD; for he shall pluck my feet out of the net."
My friend, just keep your eyes on God. Pour out your heart to Him when you are mistreated or hurt. He is always there to listen and give you and I grace in the time of need.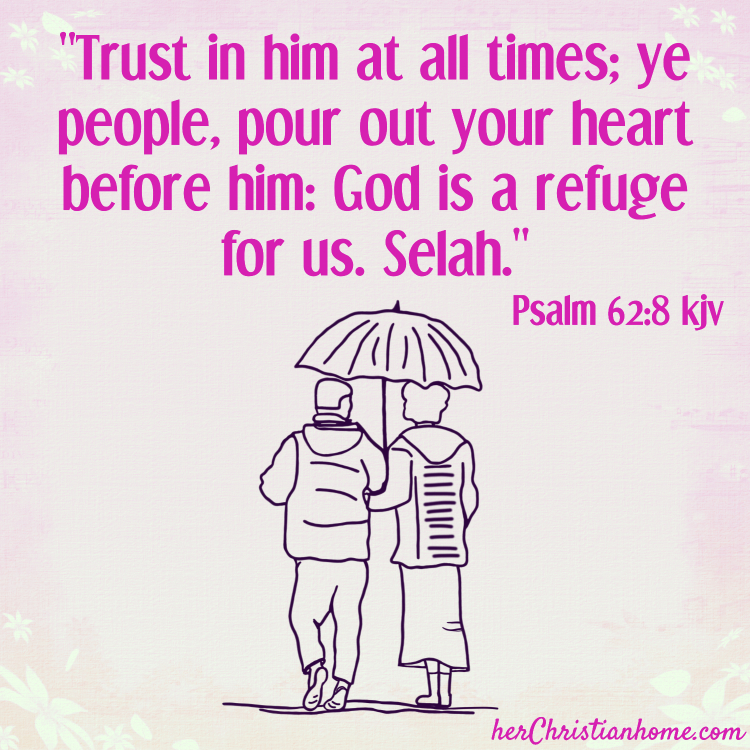 "Trust in him at all times; ye people, pour out your heart before him: God is a refuge for us. Selah." – Psalm 62:8 kjv
Keep walking in faith,
Rhonda White