As you are well-aware, there is much turmoil and violence in the world. You cannot travel around the world, in search of peace, and find it.
Without overwhelming you as a "bearer of more bad news," I will only give you THREE quick statistics (particularly in the U.S. where I live), demonstrating that our world is highly deficient in peace, as we so desperately need.
"In the U.S., youth homicide rates are MORE than 10 TIMES that of other leading industrialized nations." (*statistics presented by peacealliance.org)
"It's estimated that 16.2 million adults in the United States, or 6.7 percent of American adults, have had at least one MAJOR depressive episode in a given year." (*statistics presented by healthline.com)
"Anxiety disorders are the MOST COMMON MENTAL ILLNESS in the U.S., affecting 40 million adults in the United States age 18 and older, or 18.1% of the population every year." (*statistics presented by adaa.org)
As you probably realize, there is so MUCH MORE to consider among the messiness of today's society, beside these THREE given statistics.
First of all, the world CANNOT have total peace without God. The more they try to push Him out of the way, and try to claim that He doesn't even exist, the more pain, violence and suffering escalates.
If you are searching for a "peace of mind", first consider that God is the source of peace. You must first accept Jesus Christ as your personal Savior. (Click to read>> "Why I am a guilty sinner and needed forgiveness" )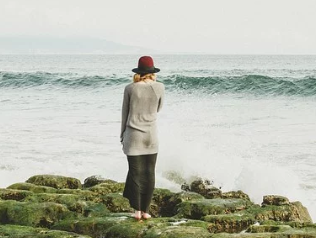 As for Christians, we can still have a "peace of mind" among this chaotic world around us. Yes, it's extremely difficult at times, but I think we simply need to spend more time than ever reading and meditating on the Word of God.
Also, we need much wisdom in making good choices that will help us avoid more conflict and more stress in our lives. In saying that, we simply can't avoid all stressful situations; therefore, we need much strength and peace from our Heavenly Father.
Here's FIVE Bible verses you can read, memorize and write in your journal about having peace….
"Thou wilt keep him in perfect peace, whose mind is stayed on thee: because he trusteth in thee."

Isaiah 26:3 kjv
Keep your mind on Jesus — and TRUST Him to put things in order for your situation. Letting your mind wander around about all the "what ifs" will bring more unsettling turmoil. With complete trust and our focus on God, comes peace. Even though at times, circumstances go beyond your control, things are NEVER EVER out of control with God.
"Peace I leave with you, my peace I give unto you: not as the world giveth, give I unto you. Let not your heart be troubled, neither let it be afraid."

John 14:27 kjv
Jesus gives peace that the world cannot offer. He doesn't want your heart to be troubled and afraid. Ask Jesus for "peace of mind" every time you find yourself being afraid. Hand your problems back to Him and let Him carry your burden. (Matthew ll:28-30)
"These things I have spoken unto you, that in me ye might have peace. In the world ye shall have tribulation: but be of good cheer; I have overcome the world."

John 16:33 kjv
Wasn't God generous and loving by letting you and I know the end of the story in Revelation? We know there's much violence and trials in this scary world, but we can be assured that Satan does not win! With God, we have victory in sight! Now that should offer us some "peace of mind!"
"Now the God of hope fill you with all joy and peace in believing, that ye may abound in hope, through the power of the Holy Ghost."

Romans 15:13 kjv
With the ever changing world, depend on the ONE who does not change! >> "For I am the LORD, I change not;" – Malachi 3:6a You have HOPE in God, and you can have peace and joy through Him!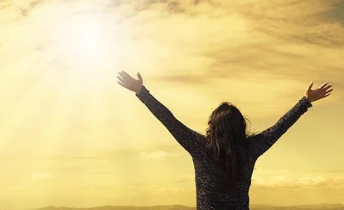 "Be careful for nothing; but in every thing by prayer and supplication with thanksgiving let your requests be made known unto God. And the peace of God, which passeth all understanding, shall keep your hearts and minds through Christ Jesus."

Philippians 4:6,7 kjv
We can pray about everything, and that in itself, is a BIG assurance. But, we also gain a positive perspective, and set our heart in the right attitude when we give thanks to our Heavenly Father. You and I can have PEACE beyond all understanding, through Jesus Christ!
*On a side note here: I do not expect a mother to be truly thankful that her child has a terrible disease, or has died in a car accident. God's grace is very much needed there. But, she CAN keep a grateful heart. She can thank God that He loves her and cares about her hurt. She can thank God that He always knows best, and is always in control of every situation. (Nothing takes Him by surprise.) She can thank God that He can see the big picture (all things working together for good, Romans 8:28), especially when her vision is so darkened by the trial. This will help bring her a peace of mind…but be patient and gracious to a hurting mother, it takes much time to heal.
To sum it up today, a "peace of mind" is all about trusting God, keeping our hearts and minds focused on Him, and keeping a close relationship with Him. We do that by daily reading God's Word, praying and applying those biblical principles we've been taught…and claiming God's promises which CANNOT fail!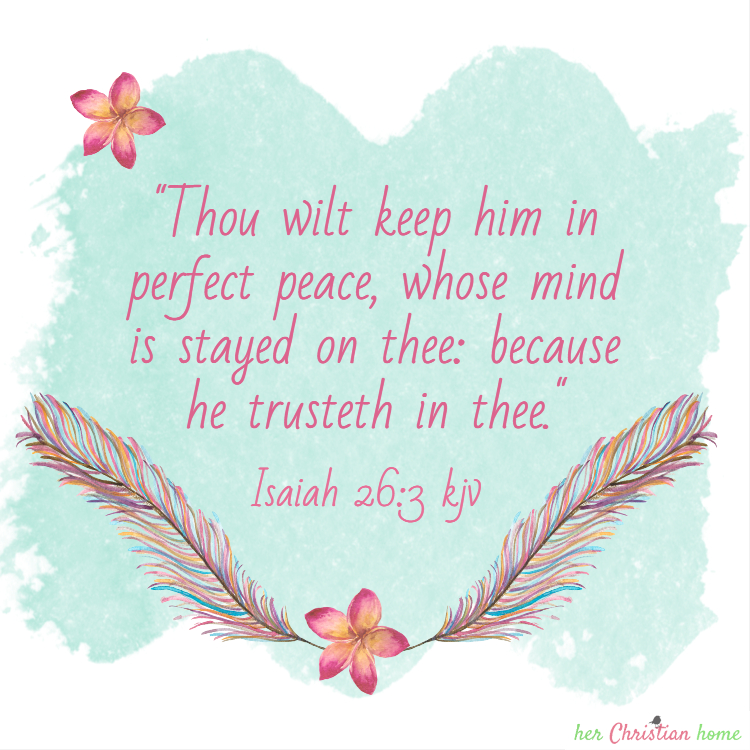 May God bless you and your family,
Rhonda White