As Christians we often harbor blockades in our life that keep us from reaching our full potential for God.
If we were to be honest, most of these hindrances could be removed if we would but yield fully to the Holy Spirit's convictions.
Sometimes we stubbornly cling to doing our own thing for various reasons.
Just a few of those things that keep us "stuck in the muck"…
We enjoy the pleasure of our sin.
We want to participate in what's popular to do.
We hate conflict and don't want to take a bold stand contrariwise.
Our pride causes us to refuse to change.
We let ourselves remain as baby Christians, not reading God's Word to grow in wisdom and knowledge.
You are probably well-acquainted with the stubborn Israelite people in the Old Testament, who had to learn the hard way over and over again.
Some of their most recurring issues were:
They murmured and complained against God.
They failed to trust God.
They were stubborn and disobedient.
They deserted God to serve other idols.
Today, I'm sharing a few thoughts from First Samuel chapter 7…
"And Samuel spake unto all the house of Israel, saying, If ye do return unto the LORD with all your HEARTS, then put away the strange gods and Ashtaroth from among you, and prepare your hearts unto the LORD, and serve him only: and he will deliver you out of the hand of the Philistines." (I Samuel 7:3 kjv)
The Israelite people once again found themselves in a scary mess. The Philistines were a constant enemy, whom they could NOT conquer on their own without God's help.
We can easily pinpoint the Israelite's problem… it was a HEART issue!
The Israelite people failed to reach their full potential for God because they struggled to stay fully committed to God and instead caved into the desires of their flesh.
In truth, they needed to keep themselves separated from the influence of other nations and the gods they served!
We see Samuel urging them to prepare their HEARTS and commit to serving ONLY the Lord God, and to put the false gods away from them.
The good news in this particular story is that the Israelite people once again submitted and obeyed. They made a commitment to serve ONLY the Lord GOD.
"Then the children of Israel did put away Baalim and Ashtaroth, and served the LORD only." (I Samuel 7:4 kjv)
Sometimes, because of our PRIDE and STUBBORNNESS, God allows us to get to that LOW-POINT in which we have nowhere to turn — but back to God!
It was time for some HUGE de-cluttering!
They had to toss out Baalim and Ashtaroth.
They had to make a HEART commitment to solely serve the Lord GOD.
The Bible says that we cannot serve two masters…
"No man can serve two masters: for either he will hate the one, and love the other; or else he will hold to the one, and despise the other. Ye cannot serve God and mammon." (Matthew 6:24 kjv)
But, now that the Israelite people are ready to make the necessary adjustments in their life, it was no easy wash-n-go thing…
When we've been doing wrong, it's going to take some humble work on our part. We need to ask for God's forgiveness and mercy. We need to make some necessary changes in ourselves.
I Samuel 7:5-9 kjv says,
"And Samuel said, Gather all Israel to Mizpeh, and I will pray for you unto the LORD."
"And they gathered together to Mizpeh, and drew water, and poured it out before the LORD, and fasted on that day, and said there, We have sinned against the LORD. And Samuel judged the children of Israel in Mizpeh."
"And when the Philistines heard that the children of Israel were gathered together to Mizpeh, the lords of the Philistines went up against Israel. And when the children of Israel heard it, they were afraid of the Philistines."
"And the children of Israel said to Samuel, Cease not to cry unto the LORD our God for us, that he will save us out of the hand of the Philistines."
"And Samuel took a sucking lamb, and offered it for a burnt offering wholly unto the LORD: and Samuel cried unto the LORD for Israel; and the LORD heard him."
After getting their HEARTS right, and the true REPENTANCE of their sin, we see that the Lord God began to work and remove the Israelite's enemy from their life…
I Samuel 7:10-13 kjv says,
"And as Samuel was offering up the burnt offering, the Philistines drew near to battle against Israel: but the LORD thundered with a great thunder on that day upon the Philistines, and discomfited them; and they were smitten before Israel."
"And the men of Israel went out of Mizpeh, and pursued the Philistines, and smote them, until they came under Bethcar."
"Then Samuel took a stone, and set it between Mizpeh and Shen, and called the name of it Ebenezer, saying, Hitherto hath the LORD helped us."
"So the Philistines were subdued, and they came no more into the coast of Israel: and the hand of the LORD was against the Philistines all the days of Samuel."
What obstacles are you battling in life? God is able to give the victory!
Most often we need a total HEART change.
We need to DE-CLUTTER the sin in our life.
We need a total COMMITMENT to serve God only instead of clinging to our own ways
We need to set FEAR aside and trust God with our FULL OBEDIENCE!
We need to be FAITHFUL in feeding ourselves daily with spiritual nourishment from the Word of God
When we accomplish all these things, we'll be able to gain confidence in facing our battles with the Lord's help. Now, we can boldly say…
"The LORD is on my side; I will not fear: what can man do unto me?" (Psalm 118:6 kjv)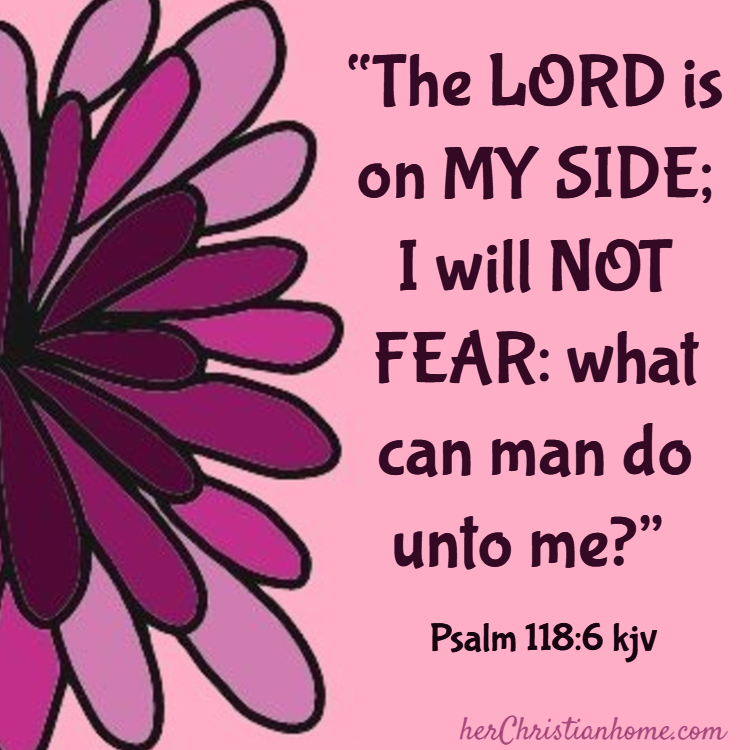 The LORD is on YOUR side today, if you'll fully commit to God, He will help you remove all those blockades. He will guide you each step of the way so that you can reach your FULL POTENTIAL for God!
May God bless you and your family,
Rhonda White