References today are from Matthew 21:18 to 22 KJV
One morning, Jesus was hungry. Since he had no earthly home during his ministry years, he gazed around looking for breakfast.
There nearby, Jesus saw a fig tree. When he wandered over to the tree, anticipating fruit, he observed that it was only sporting leaves. There was not a single fruit found growing on it. What a disappointment in a fruit tree!
QUESTIONS to consider:  Are we like this fruit tree? Are we growing spiritual fruit in our lives? Are we sharing the gospel?
Jesus then said to the tree, "Let no fruit grow on thee henceforward for ever." And immediately the fig tree withered away. (Matthew 21:19)
When the disciples saw this miraculous occurrence, they marveled, and verbally exclaimed at how soon the tree had withered away. (Matthew 21:20)
I can imagine this was indeed a stunning sight to see. But, as we know, Jesus was ready to teach his disciples an important truth. Something that I'm also encouraging you to ponder on this week…
Matthew 21:21 and 22 says,
Jesus answered and said unto them, Verily I say unto you, If ye have faith, and doubt not, ye shall not only do this which is done to the fig tree, but also if ye shall say unto this mountain, Be thou removed, and be thou cast into the sea; it shall be done.
And all things, whatsoever ye shall ask in prayer, believing, ye shall receive.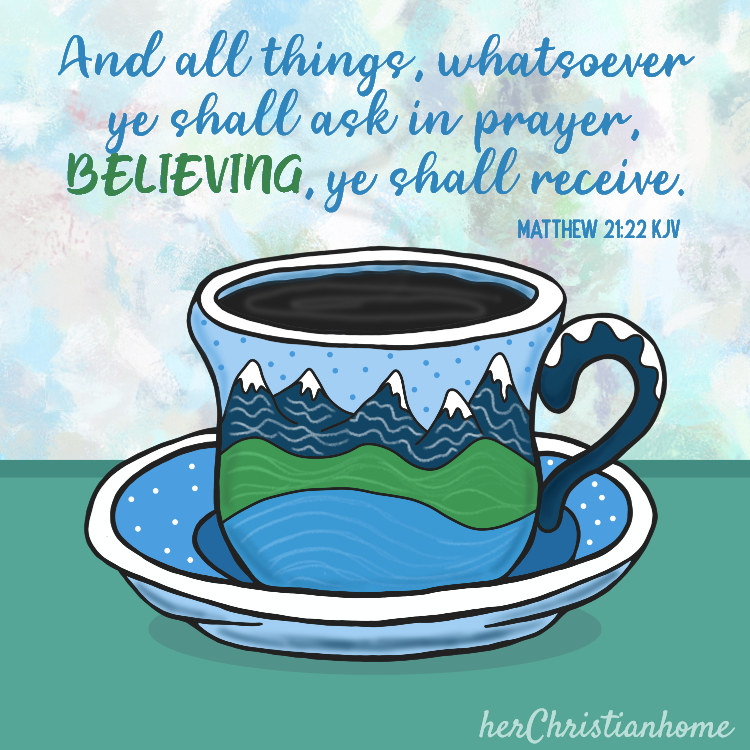 The TRUTH here is three-fold…
Have FAITH (and you can do even bigger things like move a mountain!)
DOUBT NOT.
BELIEVE that God can do whatever you're asking in prayer.
We are to have FAITH , DOUBT NOT and BELIEVE you will receive!
TO DO: Write this biblical truth down in your journal today! Write down & memorize a Bible verse to increase your faith!
EXPECTATIONS in FAITH…
Apply this three-fold truth, and with God, you can accomplish even bigger things like move a mountain!
You and I are NOT exercising our FAITH near as we much as we should, would you agree?
God can move mountains in your life and mine!
Perhaps you're growing weary of hearing your own prayers.
Keep knocking…keep praying!
Matthew 7:11 says,
"If ye then, being evil, know how to give good gifts unto your children, how much more shall your Father which is in heaven give good things to them that ask him?"
My friend, your Heavenly Father loves YOU very much today! He wants to meet all your needs! Triple your faith today!  
Pray in faith, doubt not, believe!
Keep walking in faith,
by Rhonda White