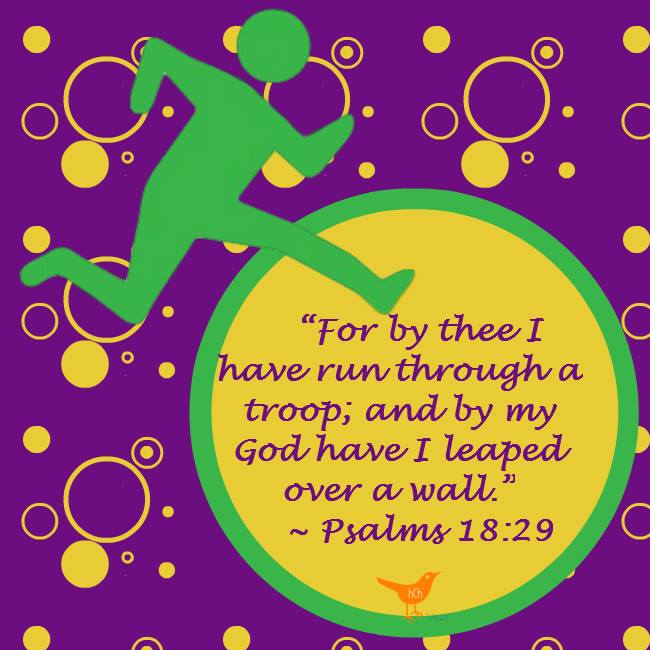 Did you know that LEAPING is a biblical activity?
It's amazing the challenges that you and I are able to LEAP over by the grace and help of God.  He gives us the power and strength to do what we cannot do on our own.
With God's help, you can climb over those steep mountains. You can traipse through those huge obstacles. You can pass over the solid,  brick walls in front of you.
With God's help, you can!
David said in Psalm 18:29 (kjv),
"For by thee I have run through a troop; and by my God have I leaped over a wall."
The definition for LEAP is "to jump or spring a long way, to a great height, or with great force."
With great force (God's help) you and I can LEAP above and beyond great heights.
David was able to defeat giants and conquer so many obstacles in life because God helped him.
LEAPING is also demonstrated through your enthusiasm for what God is doing in your life.
One day, years later, Peter and John passed by a man lame from his birth. He sat at the gate of the temple called, "Beautiful," to beg for money since he could not work.
Peter and John passed through and took notice of this man. Peter, through the power of Jesus Christ, healed this man.
The Bible says,
"And he leaping up stood, and walked, and entered with them into the temple, walking, and leaping, and praising God." – Acts 3:8 KJV
He made quite a stir, don't you think?
This lame man was now able to LEAP because God helped him do what no previous physician could do. And he certainly showed his enthusiasm for what God did in his life!
When you LEAP, God gets the glory!  Your testimony and actions are noticed by the world.
People realized this was the same lame man who had sat for years by the Beautiful gate of the temple.
They stared in wonder.  And Peter assured them that this miracle was done through the power of God.  (We need to give glory to God for the things He is doing for us! Point others to Christ!)
The crowd listened to Peter's preaching because of this man's miracle…and his enthusiastic leaping and praising God.
Because Peter gave glory to God for the miracle that had been done, I'm sure that many accepted Christ as their Savior that day.
Today, with God's help, be encouraged to LEAP.  Whatever trial or obstacle you're facing today, let God help you.
Don't get discouraged and quit.  When you LEAP, God will get the glory and your testimony will lead others to Christ.
God bless you and your family,