Please bear patience with me as I share a quick summary of the early years of David. Today, I'm driving a SIMPLE TRUTH to share with you…
It takes time and patience to let GOD do His work in our lives. It's our human nature to want everything worked out RIGHT this minute!
Although we'd prefer things to be fixed immediately, it often takes TIME as GOD is working and preparing in your life and mine to give us an expected end. (Jeremiah 29:11 kjv)
God told Samuel that He had rejected Saul from reigning over Israel. Samuel was instructed to go choose one of Jesse's sons to be king. God would show him which one. (I Samuel 16:1-13 kjv)
After seven of Jesse's sons had passed by, Samuel was probably a little confused because God had not given him the cue that any of these were to be chosen as king. Samuel then turns to ask Jesse, "Are these ALL your children?"
Jesse says that he has one more, the youngest, who is watching over the sheep. Samuel asked for Jesse's youngest son, David, to be fetched and brought to him.
God chose David, an unlikely candidate for this special position. David was probably only around 10-15 years old at this time.
"But the LORD said unto Samuel, Look not on his countenance, or on the height of his stature; because I have refused him: for the LORD seeth not as man seeth; for man looketh on the outward appearance, but the LORD looketh on the heart." – I Samuel 16:7 kjv
Is this not an encouraging Bible verse?
The Lord looks on our heart, what's on the inside. It doesn't matter how tall or short we are, it doesn't matter our weight, nor our skin color, nor the color of our eyes, or whether others think we're beautiful. God can work with you and I, just as we are, talented or untalented, if we have a willing, obedient heart to serve the Lord God.
And TIME Passes by as God Works…
David doesn't become king overnight. God has a work to do in David's life in preparing him for his future role.
David's three oldest brothers were serving on the battle lines, when Goliath, the giant Philistine continually taunted the Israelite people. When David is sent by his father to go check on his brothers and take them some food, he seems to take immediate interest in this giant and why no one was choosing to fight him.
David begins questioning others about this situation of Goliath. He angers his eldest brother, Eliab, who mocks David, saying…
"And with whom hast thou left those few sheep in the wilderness? I know thy pride, and the naughtiness of thine heart; for thou art come down that thou mightest see the battle." – I Samuel 17:28 kjv
"And David said, What have I now done? Is there not a cause?" -I Samuel 17:29 kjv
There's probably going to be discouraging times when others may mock and make fun of us. They may not see you or I as worth much, but aren't we thankful that God sees the heart.?!
And, may I also remind you, it's not our talents that God needs. Again, it's our willing, eager heart to please GOD; nothing else matters.
Saul ends up hearing of David's words and calls for him. I love David's courage when he confidently says to Saul…
"Let no man's heart fail because of him (Goliath); thy servant will go and fight with this Philistine." (I Samuel 17:32 kjv)
But Saul exclaimed that David would not have the ability to defeat Goliath because he was but a youth. (I Samuel 17:33 kjv)
However, David makes a great argument for his own case. He lets Saul know that he's already killed a lion and a bear while caring for his father's sheep.
And as you know, David ends up taking down this great giant on the first attempt with a simple smooth stone and a slingshot.
By the way, David wasn't trusting his slingshot. David wasn't trusting in his swinging arm ability. David trusted that his GOD was bigger, stronger and mightier than this giant, who was defying the armies of the living God!
The BIG size of this giant was of NO importance — it was about how BIG David's GOD was and is!
We serve the same GOD, Amen?!
And may I add this thought…
Our current circumstances help us grow bolder for our future circumstances!
Would David had been so bold that day, if he had not defeated a bear and a lion in the past?
I'm sure the bear and lion were unexpected and unpleasant dilemmas.. but GOD used those testy circumstances to create a BOLDER David!
Yes, it takes TIME and experiences to grow!
Because of this HUGE defeat with Goliath, more doors of opportunities opened up for David.
That's how GOD works! Little by little… moment by moment.
Saul sets David over men of war. (I Samuel 18:5 kjv)
Consequently, GOD gives David some more awesome victories in defeating the Philistines.
"And the women answered one another as they played, and said, Saul hath slain his thousands, and David his ten thousands." – I Samuel 18:7 kjv
The saying sure did displease Saul, and things began to turn sour for David. Saul's jealousy and pride turned into evil intentions toward David.
The Bible says, "And Saul eyed David from that day and forward." – I Samuel 18:9 kjv
Almost immediately, David finds himself constantly dodging assassination attempts by Saul.
It's important to note; however, that GOD was with David because he continued walking wisely.
"And David behaved himself wisely in all his ways; and the LORD was with him. Wherefore when Saul saw that he behaved himself very wisely, he was afraid of him." – I Samuel 18:14-15 kjv
Doesn't this story just make you want to walk wisely, too? I want GOD'S blessings and protection on me as well! Don't you?!
And TIME Passes by as God Works…
The story leads into a continual chase, sort of like the cat and mouse cartoon. Saul wanted desperately to destroy David because he feared losing his kingdom. Jealousy and pride caused him to act hastily with evil intentions.
That's what pride and jealousy will do to us as well, if we let it fester in our lives!
But as we see, God keeps working in David's life, protecting and blessing him.
And once again it's being sung…
"Saul slew his thousands, and David his ten thousands?" – I Samuel 29:5 kjv
And TIME Passes by as God Works…
After Saul's death, David finally begins to reign as king at age 30!
"David was thirty years old when he began to reign, and he reigned forty years." – II Samuel 5:4 kjv
Fifteen or more years have passed since Samuel first anointed David, the shepherd boy, to be the future king!
Hmmm… it sure does take TIME and patience to let God do His work, but His timing is always right on time…and always perfect.
It surely must have been rough for David at times, but he said in Psalm 31:15 kjv, "My times are in thy hand: deliver me from the hand of mine enemies, and from them that persecute me."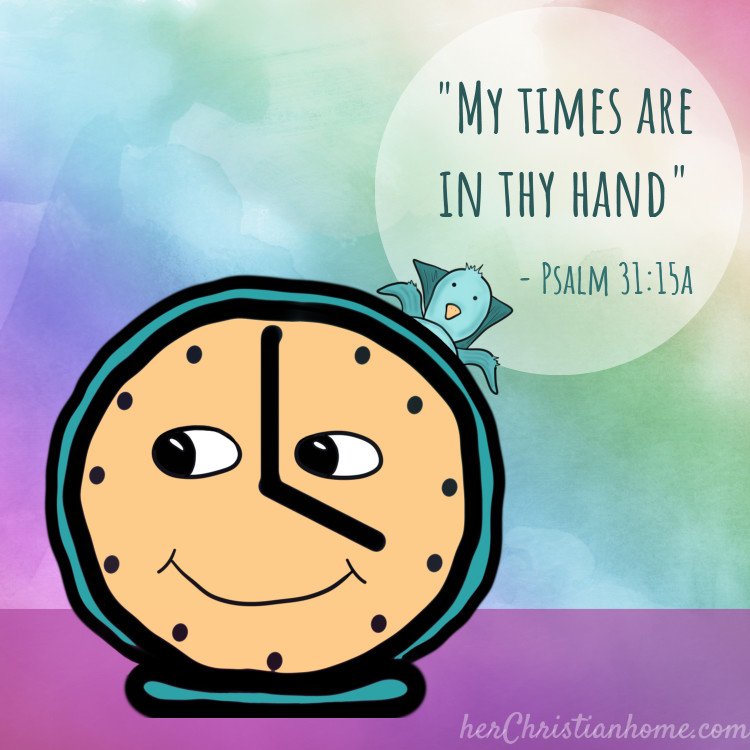 David knew God was still in control of his life…through the rough, scary times as well as the positive moments.
May I ingrain this SIMPLE TRUTH in you today that it takes TIME to let GOD do His work in you!!
You can't always see or understand what GOD is doing, but you can always TRUST Him!
May God bless you and your family,
Rhonda White