All Scripture references are from the King James Bible
Have you ever done a task and then realized shortly afterward that you didn't know if you actually did it or not?
I've done many routine household and personal tasks without being fully present. Haha! My mind was obviously daydreaming or on some other project needing to get done for the day.
I love to sing in church, but anything we do repeatedly can become a little "robotic" in our functioning without realizing what words we're really singing.
Singing songs about God is truly a part of worshiping our Heavenly Father at church.  
Psalm 150:1 says, "Praise ye the LORD. Praise God in his sanctuary: praise him in the firmament of his power."
I especially love the good old hymns written from the day when the Holy Spirit gripped the heart of someone who was emotionally hurt and drained, or who was inspired to give divine adoration by penning words and phrases, giving glory to God.
This week I decided to gather a few Scripture verses on singing and what we should sing about…
Our songs of praise should glorify God, as the greatest. I also believe singing affects the attitude of our hearts and causes us to be more joyful.
Psalm 9:2 says, "I will be glad and rejoice in thee: I will sing praise to thy name, O thou most High."
Ephesians 5:19 also says, "Speaking to yourselves in psalms and hymns and spiritual songs, singing and making melody in your heart to the Lord;"
We should sing about God's powerfulness and His merciful kindness.
Let's not sit in our pew and whisper the words… Let's sing out loud… and bellow it out! We should sing about how God has helped us in our troubles and has given us strength through our trials.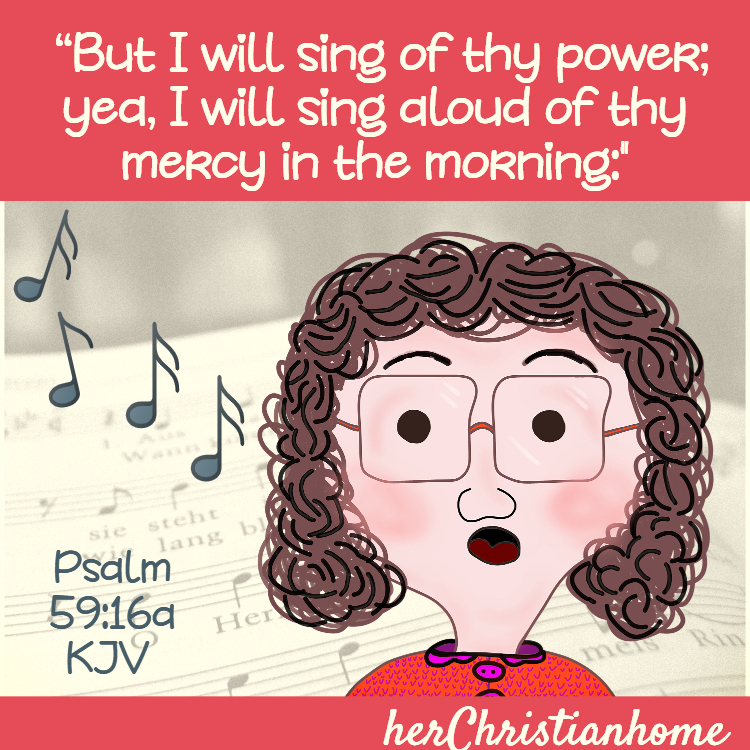 Psalms 59:16 and 17 says, "But I will sing of thy power; yea, I will sing aloud of thy mercy in the morning: for thou hast been my defence and refuge in the day of my trouble. Unto thee, O my strength, will I sing: for God is my defence, and the God of my mercy."
Ever wonder why we sing hymns of praise before the sermon message?  
We should come before God's presence with singing and thanksgiving. We should offer a joyful noise to God!
Isn't our salvation something to rejoice about?! Isn't Jesus' sacrifice enough to want to serve Him with gladness?!
By the way, we don't need to have a talented singing voice either… It's the Words from our hearts that matter to our Heavenly Father.
Psalm 95:1 and 2 says, "O come, let us sing unto the LORD: let us make a joyful noise to the rock of our salvation. Let us come before his presence with thanksgiving, and make a joyful noise unto him with psalms."
And Psalm 100: 1 and 2 says, "Make a joyful noise unto the LORD, all ye lands. Serve the LORD with gladness: come before his presence with singing."
If you've ever kept a gratitude journal or just simply written a list of things you're grateful about, you know that the list can become limitless. God's goodness has no end!
We should sing songs that speak of all God's wondrous works!
If your songs of praise are lacking in speaking of these wondrous works, I beg you to find some! CLICK HERE to check out an abundant repository of hymns of praise.
Psalm 105:2 says, "Sing unto him, sing psalms unto him: talk ye of all his wondrous works."
Singing and giving praise to the Lord is pleasant. It surely uplifts our hearts, and it's good for us to do.
"Praise ye the LORD: for it is good to sing praises unto our God; for it is pleasant; and praise is comely." (Psalm 147:1)
Godly music and spirit-filled songs of praise have been a source of comfort to our spirit.
Way back in the Old Testament, we have seen this to be a steadfast source of comfort and praise.
"Sing, O heavens; and be joyful, O earth; and break forth into singing, O mountains: for the LORD hath comforted his people, and will have mercy upon his afflicted." (Isaiah 49:13)
We can also use songs to teach spiritual truths.
I think this has especially been a useful tool in teaching our children at home and in church.
Colossians 3:16 says, "Let the word of Christ dwell in you richly in all wisdom; teaching and admonishing one another in psalms and hymns and spiritual songs, singing with grace in your hearts to the Lord."
I hope I have inspired you today to take singing praises to God much more seriously. It's a useful tool in worshipping God, comforting our hearts and teaching us spiritual truths.
Today…and at church…go sing and rejoice like you mean it!