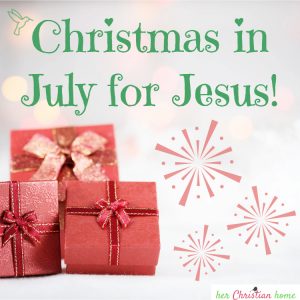 At Christmas time, Christians tend to focus more on Jesus. We talk about Jesus being the wonderful
GIFT
to our world…and how much we should
LOVE
Jesus.
As Valentine's Day approaches…we speak of LOVE and remind others to also LOVE Jesus.
By the time July comes…we've moved on…we busy ourselves in summer activities.  And with school just around the corner, we start thinking about shopping for clothes, school supplies and other related activities.
It's a good thing to enjoy the many seasons of life, but it's also easy to let our focus stray away from spiritual things the busier we get.
What about having a "Christmas in July for Jesus" celebration!?! 🙂
We're officially halfway through another year already. (WOW!) It's a good time to refresh our commitment to Jesus — and place our focus back on Him.
10 Ideas You Can Do for Christmas in July for Jesus…
Write a poem about Jesus. Or, draw (paint) if that's your gift.
Write in your journal about your love for Jesus.
Write Scripture verses about Jesus in your journal.
Remind others on social media to continue showing and sharing their love for Jesus.
Sing some Christmas songs.
Give a present to someone in need and give them a gospel tract.
Watch a Christ-focused Christmas movie.
Share with someone about Jesus' love for them and give them a gospel tract.
Set out a nativity scene (for a short while) to remind you to keep your thoughts focused on Jesus.
Send out a few Christian-based Christmas cards. (Surprise your family & friends!) 🙂
Whether or not you wish to do a "Christmas in July for Jesus" we should ALL do one thing for sure… and that is, LOVE JESUS ALL YEAR LONG!
Here's a social media image you can share…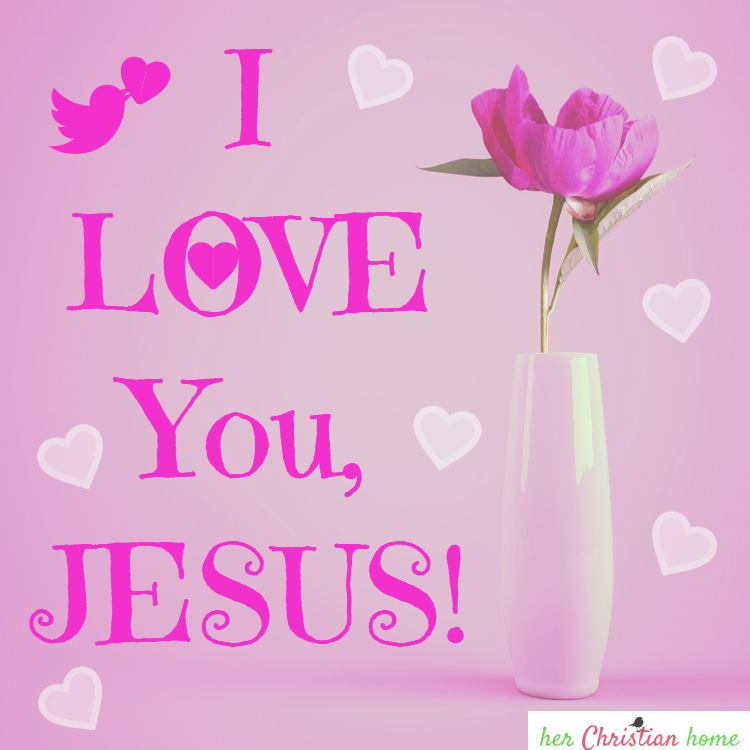 Here's a POEM that I requested permission to share with my readers…
I Love You, Jesus
I love You, Jesus. You wrapped Yourself in human flesh, fragile and weak. The Mighty God became a man, the Creator became as the created.
You were patient with the passage of time. You grew up, learned, and read the Scriptures. You taught the temple teachers.
You never chose sin, not once. You followed God, obeyed Your parents, and loved others. You defeated Satan's temptations by the Word of God.
I love You, Jesus. You had compassion on the multitudes. You taught, healed, cast out demons, forgave sins, and healed hearts. You still do today.
You accepted the cup of God's will. Your friend betrayed You. The disciples abandoned You. But You stayed faithful. You carried the cross and walked the streets to Calvary.
Nails pierced Your skin, the crowd mocked You, the sky grew dark. God placed all of our sin on You, all the sin of all people of all time. You bore it willingly.
I love You, Jesus. Your soul experienced separation from God, the Father's heart must have ached, the angels watched as You suffered. Oh, if we could have stopped it, but we caused it.
You forgave those who crucified You. You found another "son" to take care of Your mother. You granted a dying thief forgiveness and paradise. You cried, "It is finished!"
They pierced Your side. They took Your body off the cross and put it in a borrowed tomb. Sorrow consumed the faithful followers.
I love You, Jesus. Three days sorrow lingered. The disciples hid in fear. Mary Magdalene bravely visited the tomb. The stone had been taken away. The tomb was empty!
Five hundred saw You alive. You commissioned the disciples. You promised the Holy Spirit would come. You ascended to heaven to sit at the right hand of the Father as the risen King.
You still walk this earth, as the body of Christ lives, loves, and serves. You still do miracles and heal the wounded heart. Eternal life is a free gift because You paid for it with Your life.
I love You, Jesus. You are the King of Kings and Lord of Lords. The Suffering Servant, the Substitute Lamb. The Great I AM, the Risen Savior. You are my best friend, and You live in my heart.
I love You, Jesus. I love You. © Copyright 2016 by Katy Kauffman
*Used with permission: Thoughts About God website www.thoughts-about-god.com
Bible Verse of the Week: