Today's key Scripture reference is 2nd Timothy 3:16 and 17 (KJV).
"All scripture is given by inspiration of God, and is profitable for doctrine, for reproof, for correction, for instruction in righteousness:"
"That the man of God may be perfect, throughly furnished unto all good works."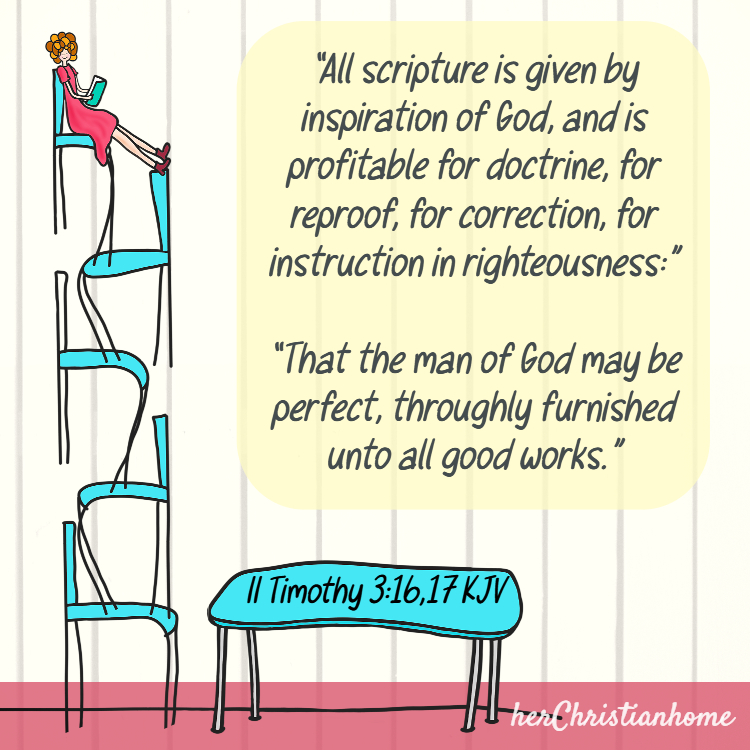 As Paul plainly stated in today's Scripture reading, ALL Scripture (both Old and New Testament) are inspired by God and is profitable to us for doctrine and instruction in righteousness.
But, the verse I wanted to focus on today is verse 17…specifically the words, "That the man of God may be perfect, throughly furnished"
The word "perfect" implies being "complete" in spiritual maturity.
We can be completely furnished with all that we need to live a successful Christian life through studying, reading and following God's Word.
But, what happens if we don't intake frequently of God's Word, consume and digest it?
1. I believe you and I would remain "baby" Christians. We would be carnal, walking in the flesh, and not be able to digest the deeper things of God.
"And I, brethren, could not speak unto you as unto spiritual, but as unto carnal, even as unto babes in Christ. I have fed you with milk, and not with meat: for hitherto ye were not able to bear it, neither yet now are ye able." – First Corinthians 3:1 and 2
"For every one that useth milk is unskilful in the word of righteousness: for he is a babe." – Hebrews 5:13
2. You and I will not have victory over our sinful flesh to do what we should do.
"For the flesh lusteth against the Spirit, and the Spirit against the flesh: and these are contrary the one to the other: so that ye cannot do the things that ye would." – Galatians 5:17
3. You and I will not be able to please God.
"So then they that are in the flesh cannot please God." – Romans 8:8
4. You and I will miss out on a peaceful, joyful, blessed life.
"For to be carnally minded is death; but to be spiritually minded is life and peace." – Romans 8:6
5. You and I will be more likely to cause contention and strife while we walk in the flesh.
"For ye are yet carnal: for whereas there is among you envying, and strife, and divisions, are ye not carnal, and walk as men?" – First Corinthians 3:3
Today, CHOOSE to have your mind and heart transformed by walking with the Lord and not the world.
Get thoroughly furnished so that you can become a spiritually mature Christian! Read your Bible every day and grow spiritually!
Here are a few Bible verses to help you get focused on spiritual growth…
"But grow in grace, and in the knowledge of our Lord and Saviour Jesus Christ…" 2nd Peter 3:18a
"And be not conformed to this world: but be ye transformed by the renewing of your mind, that ye may prove what is that good, and acceptable, and perfect, will of God." – Romans 12:2
"Meditate upon these things; give thyself wholly to them; that thy profiting may appear to all." – First Timothy 4:15
"Therefore leaving the principles of the doctrine of Christ, let us go on unto perfection; not laying again the foundation of repentance from dead works, and of faith toward God," – Hebrews 6:1
"And this I pray, that your love may abound yet more and more in knowledge and in all judgment;" – Philippians 1:9
"Study to shew thyself approved unto God, a workman that needeth not to be ashamed, rightly dividing the word of truth." – 2nd Timothy 2:15
"For the word of God is quick, and powerful, and sharper than any twoedged sword, piercing even to the dividing asunder of soul and spirit, and of the joints and marrow, and is a discerner of the thoughts and intents of the heart." – Hebrews 4:12
"For this cause also thank we God without ceasing, because, when ye received the word of God which ye heard of us, ye received it not as the word of men, but as it is in truth, the word of God, which effectually worketh also in you that believe." – First Thessalonians 2:13
To become a successful, spiritual, mature Christian, you and I MUST daily feast on the Word of God. Make it a number one priority. Please don't let getting thoroughly furnished sit on the bottom of your to-do list.
Side note: You can sign up for my newsletter here on HCH and I will send you a Bible reading schedule each month.
Keep walking in Faith,
by Rhonda White