Today's Bible Study references are from Matthew 14:24 to 32.
The key verse is Matthew 14:31. King James Version.
When I think of doubting, I often remember the amusing story of a man who wheeled a barrow across a tight rope. The peering crowd beneath cheered the man onward! As he reached the other side, you could hear the shouts, "Hurray! Amazing! Wow!"
Questioning the crowd, he asked, "Do you believe that I can also tote a man across to the other side in this wheelbarrow?" "YES! Yes, you can do it!" With such encouragement, he quizzically implored, "Okay, who will be my first volunteer?"
The response? Dead silence. You see, doubt and fear, paralyzed the action of their faith in this man's abilities. They believed he could, but still had their doubts about the outcome if they were to get inside the wheelbarrow themselves.
During the days of Jesus on earth, the disciples also dealt with fear and doubt.
In Matthew 14:24, we find the disciples in their ship in the midst of a storm. (The last place I'd want to be, in the middle of a storm, is in a ship. haha! So, you can probably understand the fear that this would cause being tossed around, perhaps hanging on for your very life.)
The Bible says that in the fourth watch of the night (that's around 3 a.m. to 6 a.m. according to the Roman watch), Jesus came toward them, walking on the water. (Verse 25.)
The disciples fearfully cried out because they thought it was a spirit lurking out on the water. (Verse 26.) (I have to say, this part of the story makes me grin every time. Don't you picture their frightened faces with their hands hovering over their eyes and mouths?)
Jesus greeted the terrified disciples and instructed them not to be afraid. (Verse 27.)
Peter's enthusiasm thrills me most when he requests Jesus to summon him out to meet him on the water. Jesus simply says, "Come." Peter boldly steps overboard onto the water! (Verses 28 to 29.)
Question: When the Heavenly Father seeks your attention and says, "Come," do you boldly step outward in faith?
Peter had a great start for sure. But, he had the same trouble that I have at times. He began looking at all the boisterous waves around him.
The more Peter's fear grew, the more he began to sink.
Although we may scoff at Peter's faith, we promptly hear him make the right call. "Lord, save me." (Verse 30.)
Side note: When you find your faith drowning, you do NOT need to keep sinking. You and I can cry out like the father of the demon-possessed child, who pleaded, "Help thou mine unbelief." (Mark 9:24) We can also call out to the One who will grab our hand to pull us out from our sinking state. We serve a merciful God, amen?!
Jesus wasted no time saving petrified Peter. He immediately stretched out his hand to catch him.
Jesus' reprimand to Peter was direct and to the point, "O thou of little faith, wherefore didst thou doubt?"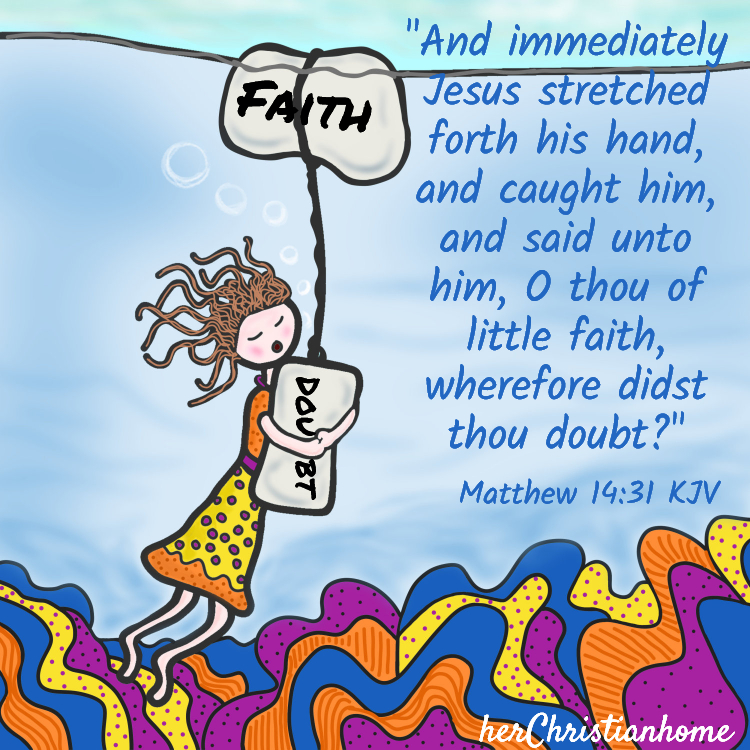 Jesus's question is something for you and I to also consider. Our doubts and our fears will sink our faith every single time.
When we cling to our doubt, we cannot keep our faith afloat.
You and I must keep our eyes on our Heavenly Father during our storms of life. Each trial, big or small, is a time to practice more faith. It's a time to trust the One who is in charge of the stormy waves!
The last reference today, Matthew 14:32, says, "And when they were come into the ship, the wind ceased."
After every storm there is a calm. Stay with JESUS through the stormy trials of your life. There is NOTHING too hard or difficult for God to fix. Don't let doubt sink your faith!
Keep walking in faith,
by Rhonda White