Countless times, I've been in stressful situations where I felt I couldn't handle circumstances on my own. I needed help. "Please help me, Lord," has been uttered from my lips numerous times.
Truthfully, I have almost felt sort of guilty with the simplicity of my prayer. Should I have taken time to construct a more eloquent speech with my prayer request?
Psalm 119:86 kjv says, "All thy commandments are faithful: they persecute me wrongfully; help thou me."
When I read David's simple prayer, "Help thou me," I felt a peace that my own simple, heartfelt pleas have been adequate at overwhelming times when I simply didn't know what to pray, nor what particular thing I should ask.
Just like a little girl reaching her tiny hands upwardly and begging, "Help me, Daddy," I've been a daughter of my Heavenly Father requesting the same help hundreds of times.
We can know, just as David did, in our times of trials, frustrations and fears, that our HELP comes from God above.
"My help cometh from the Lord, which made heaven and earth." – Psalm 121:2 kjv
We can trust that God, who had the power to create heaven and earth, hears our simple prayers whether or not we have a gift for glorious words. It's our heart that God sees.
But, looking a little deeper… we see in Psalm 119:86, David acknowledges that God's commandments are FAITHFUL.
David knew that his HOPE was in God's Unfailing Word…
"My soul fainteth for thy salvation: but I hope in thy word." – Psalm 119:81 kjv
"Thou art my hiding place and my shield: I hope in thy word." – Psalm 119:114 kjv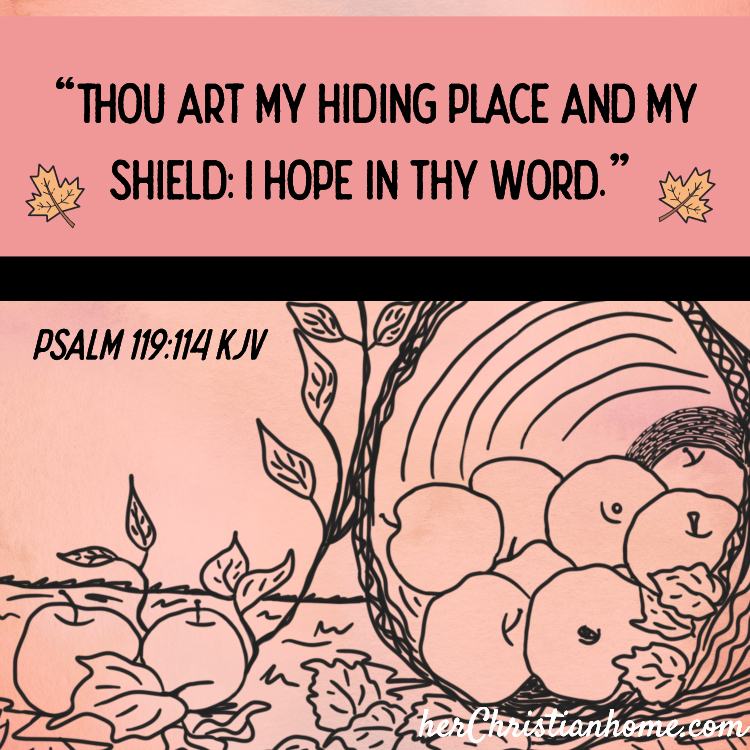 When we're facing pain, distress, grief or misery, we bear the possibility of sinking under…. UNLESS we're keeping our eyes on God, and our minds and hearts in the Word of God.
David said in Psalm 119:92 kjv, "Unless thy law had been my delights, I should then have perished in mine affliction."
David loved God's word. God's law reveals our sin and our own inadequacies, and while facing our shortcomings, we see even more so how much we truly need God.
David expressed the importance of God's law by his own admission of mediating on it daily — and ALL day long!
"O how love I thy law! it is my meditation all the day." – Psalm 119:97
Read God's Word daily. Memorize it. Meditate on it.
And whenever (at any hour of the day) you need God's help, do ask Him! As a child of God, you can be assured that our Heavenly Father has His arms wide open. He is a God who hears, comforts and helps.
My friend, keep walking in faith,
Rhonda White